Try Max Now

The season finale of A Black Lady Sketch Show spared no expense, booking everyone from Tahj Mowry, to season one alum Quinta Brunson. This finale was one for the books, as we finally got a little closure to their theme song saga (more below), their on-going challenge to determine where the heck are they and was there indeed a rapture?! Here's a review of the finale.
Greeting us with how they opened the season, Quinta finds herself in an ally fighting hairstyles with slick reads and using all the "don'ts" to survive, this was pure genius. Want to break free from relaxed hair? Wet it! Need to escape from box braids that won't let you go? Burn it. And it's always the dialogue for me. The natural hair, spouting her witty banter, celebrating the strength and magic there is in the journey of going natural, only to be ambushed by the relaxer, announcing "we need to get some things straight!". Epic! Turns out, this was a sketch for a new fighting game, "Rain Fighter 1B," where the user has to figure out if their transitioning hair can fight the elements. Name another show that can take something that matters so much to us and make it into a video game?! I'll wait!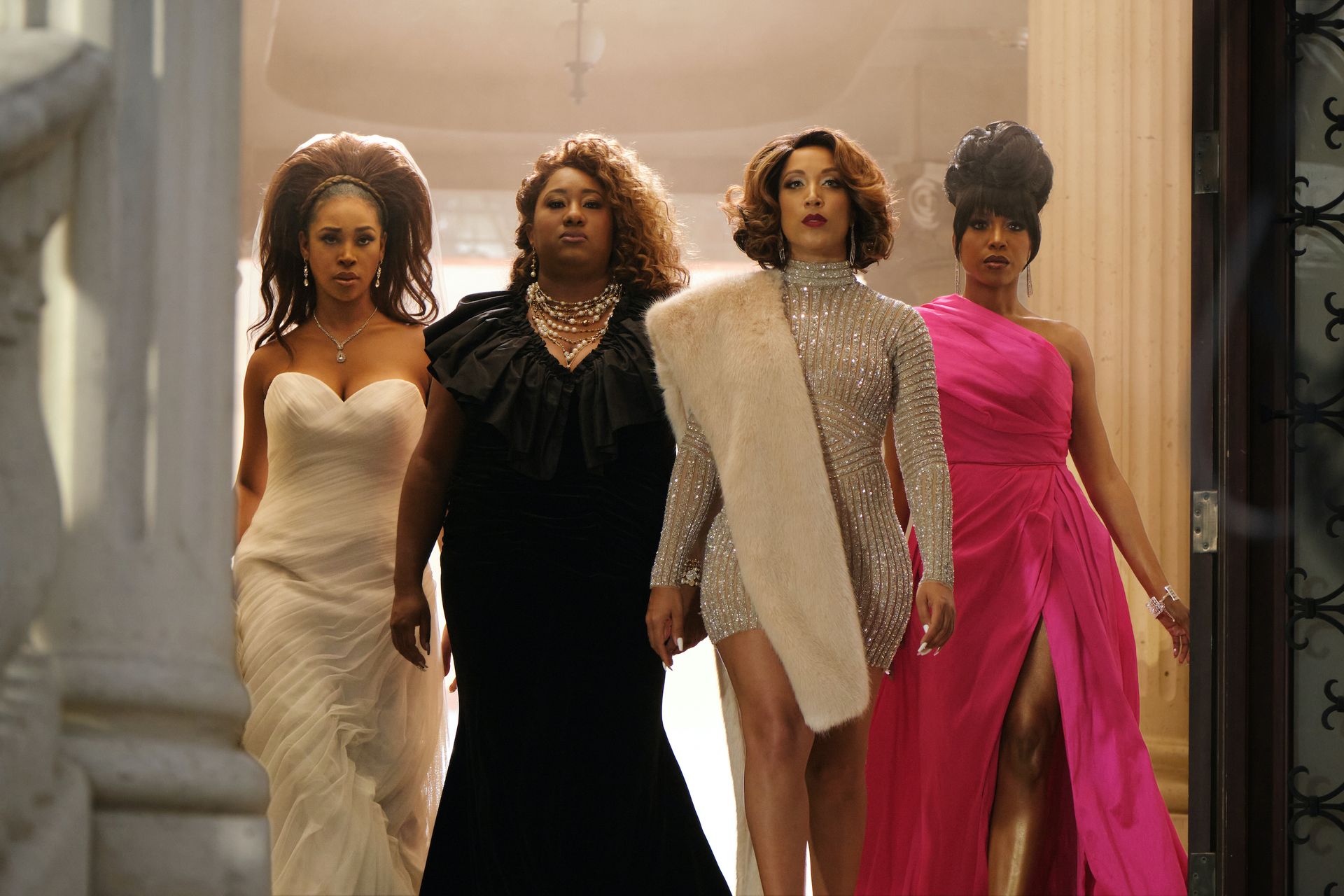 The other moment I want to celebrate from this season was the ever-evolving opening number. If you're a series regular, you should know by now that every opening to the show is different from the previous episode. This season they decided to introduce us to these baddddd ass beautiful rich women in the Maldives who have mysterious circumstances that led them to together. The trick is, we only get pieces of their story along the way. Well folks, we can finally conclude each of their story lines. I took the chance to write the words out, as my only gripe with the series is that these character descriptions went by fast AF!
Robin Theade as: "The Rich Heiress with a grudge and a bum leg but a soft heart for people who commit crimes of passion because she is actually the Maldivian Princess whose man cheated on her."
Ashley Nicole Black at: The Rich Doctor whose man is cheating but she has no proof despite catching him in bed with another woman who is her twin sister."
Gabrielle Dennis as: "The Rich Lady in a coma who has a secret lovechild with a Maldivian Prince who is really a spy sent to capture her and return her to her twin sister for ultimate revenge."
Skye Townsend as: The Rich Jilted bride who just committed murder but has no regrets because she killed for righteous reasons including exposing her now-dead fiancé as the man who accidentally ran over Robin's leg at her inaugural parade in the Maldives."
In conclusion, if you thought the artistry stopped at the sketches, you're wrong. Every inch of this series is calculated and it's that kind of intentionality that we celebrate around here!
One of my other favorite sketches was not only my favorite because of the concept, but also the nostalgia. "Smart Guy" alums, Tahj Mowry (playing Nate) and John Marshall Jones (playing Rodney) join us as a nephew and uncle pairing that play scrabble in the sketch, "Slurred Words". My how the tables have turned, as the younger one isn't the genius in this circumstance. The best thing about this is the cheating ass uncle who makes sure to throw some sideways banter as a means to intimidate. Nothing like playing games with your elders, who, do everything they can, including guilt you into being "disrespectful" as they win the game. Phrases like, "I know my sister's baby boy did not come in my house and spell the word of our oppressor!" This was pure black excellence for me. The writing, the colloquiums, the characters… amazing! Turns out, this was Unc's way to get his "beggin' ass" nephew from asking for help with a car loan. Because why would he just tell him to get a job in the first place? That just ain't how we do!
My hopes is that we get at least 500 episodes of this magic, but in the meantime, we just have to wait for a Season 4. Enjoy some outtakes from Season 3 in the meantime.