The Undoing Episode 2: "The Missing"
|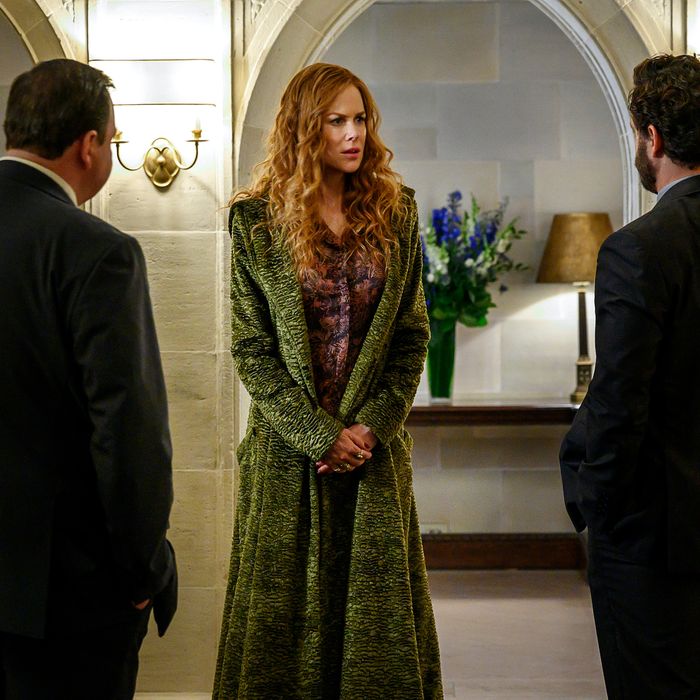 I expected this show to spin some good plots, but man alive, I'm sunk into it already. After this episode, I'm stuck wondering what the truth is and who is telling it?? We continue with our solid cast of Grace (Nicole Kidman) trying to find her husband Jonathan (Hugh Grant).  She's bewildered and stressed, and her son Henry (Noah Jupe) is trying to reassure her.  But he's a smart kid and he's going to start putting things together soon. Meanwhile, his school is a mob scene with paparazzi, media, and cops and the scornful eyes of all the other students and parents. Kidman plays this episode utterly beautifully, that "feeling like you're going crazy" while everyone around you seems to know what's going on and you don't. Side note, grade A wardrobe choices giving Kidman that green coat! 
Grace seeks out anyone who might have answers. She goes to Jonathan's hospital and gets some weird information. The detectives straighten it out for her. Jonathan was terminated from the hospital three months ago for inappropriate contact with a patient's family and several disciplinary actions. Want to take a guess who the family was? I'll give you one. Fourth-grader Miguel Alves (Edan Alexander) had a tumor and saw Dr. Fraser. Grace's friend Slyvia (Lily Rabe) comes clean and says Jonathan approached her and hired her for advice since she's a lawyer. Not employment law, but she offered help, only to see there was plenty of evidence to fire him. Jonathan told Slyvia everything was fine and taken care of, she assumed it went away. She didn't know he was fired and she couldn't come clean to Grace because it was client privilege. Things are starting to look not so good for you, Jonathan.
Grace returns to her apartment, surrounded by Paps and detectives. She hands over Jonathan's phone easily enough and I'm glad. I was worried she might still be firmly in the "stand by my husband" camp and that will not help you here. She sees Jonathan's hairbrush being removed and begins asking about DNA testing. Not just as a reference against the crime scene, but Mr. Alves (Ismael Cruz Cordova) is demanding Elena's baby isn't his…I don't want to say I called it in my head during the last episode, but I had some suspicions. But here's the question: romantic or rape? Did he force himself on her or did they have a relationship?
Grace and Henry escape to the beach house, though Henry is less than thrilled about it. Grace is still seeing things, playing that losing your mind feeling so well. Oh wait, turns out Jonathan is actually here. He shows up and offers his perspective on everything. Oh man, I really don't know if I can believe you, Jonny Boy. He says they had a romantic thing and she became obsessed; with him, with Grace, with getting her older son at the school. BUT he claims he didn't kill her.  He argued with her, f*cked her, left her there, came back and she was dead…and hubby has an alibi…I don't know if I can believe you.  Especially when you came home, cried in your wife's arms, and then f*cked her. No matter what you say you did, I have a hard time trusting someone who can see a mutilated body and easily have sex after. The last thing I would want after seeing anyone bloody and destroyed is intimate contact. I can't wait to see how things continue. I still think Donald Sutherland's character will play a bigger role than we're currently seeing, but I'm curious what you think?  Did Jonathan do it?  Or someone else?