Try Max Now
Every once in a while, I watch something on HBO that hits me a little too hard in the feels. Sharp Objects was one such, and Euphoria is now another. The reason it gets to me is that the attitudes around sex, violence, and especially anything related to coping mechanisms around trauma can be triggering. Because people are really living with those situations and pain and while I am okay (for now) I am putting out there now that if you aren't okay, there are people who can help. Okay? Okay, let's get to the review and why toxic masculinity is ruining women's (and men's) lives.
We open with Nate (Jacob Elordi) as a young boy finding his father's porn videos of him with younger men. For starters, no kid that young needs to be watching porn but especially not of his father and especially not the names and attitudes perpetuated towards those young men in those videos. But what can you expect when porn is so available these days? The first episode had a brief moment breaking down the popularity of aggressive, violent sex towards women and guess what, Nate is the type of personality that f*cking terrifies me. His father is giving him an attitude complex for how awesome and amazing he is, and now he hates men and women. The whole quote about him wanting to get married and have kids except he doesn't like boys, and he doesn't want a girl either. And he has a whole list of likes and dislikes and I can tell you right now, Nate would NOT be trying to hit me up. He's all jealousy over Maddy (Alexa Perez) anyway and boy, doesn't that shit get out of control. More on that in a moment.
Rue (Zendaya) is bonding with Jules (Hunter Schafer) who provides a safe place for her to be herself. She's struggling and even when trying to bring up a summer memory for acting class, she freezes. How can you tell your story without giving everyone the rehab details? Because, let's face it, that's all anyone cares about hearing. Lexi (Maude Apatow) checks on her and brings up a great point about drug abuse. People become different personalities and Lexi just wants her friend Rue back. Rue heads over to Fezco's (Angus Cloud) and gets caught up in his drug dealings. Sometimes when people think they're invincible because of drugs a nice reminder is a terrifying situation in which a dealer is trying to straight up rape you because he gave you more drugs than you can pay for and your other friend/dealer has to cover for you. Angus doesn't appear to have done anything else, but he nails this part and I would love to see him in more stuff. In the end, he calls Jules to come rescue and help take care of Rue.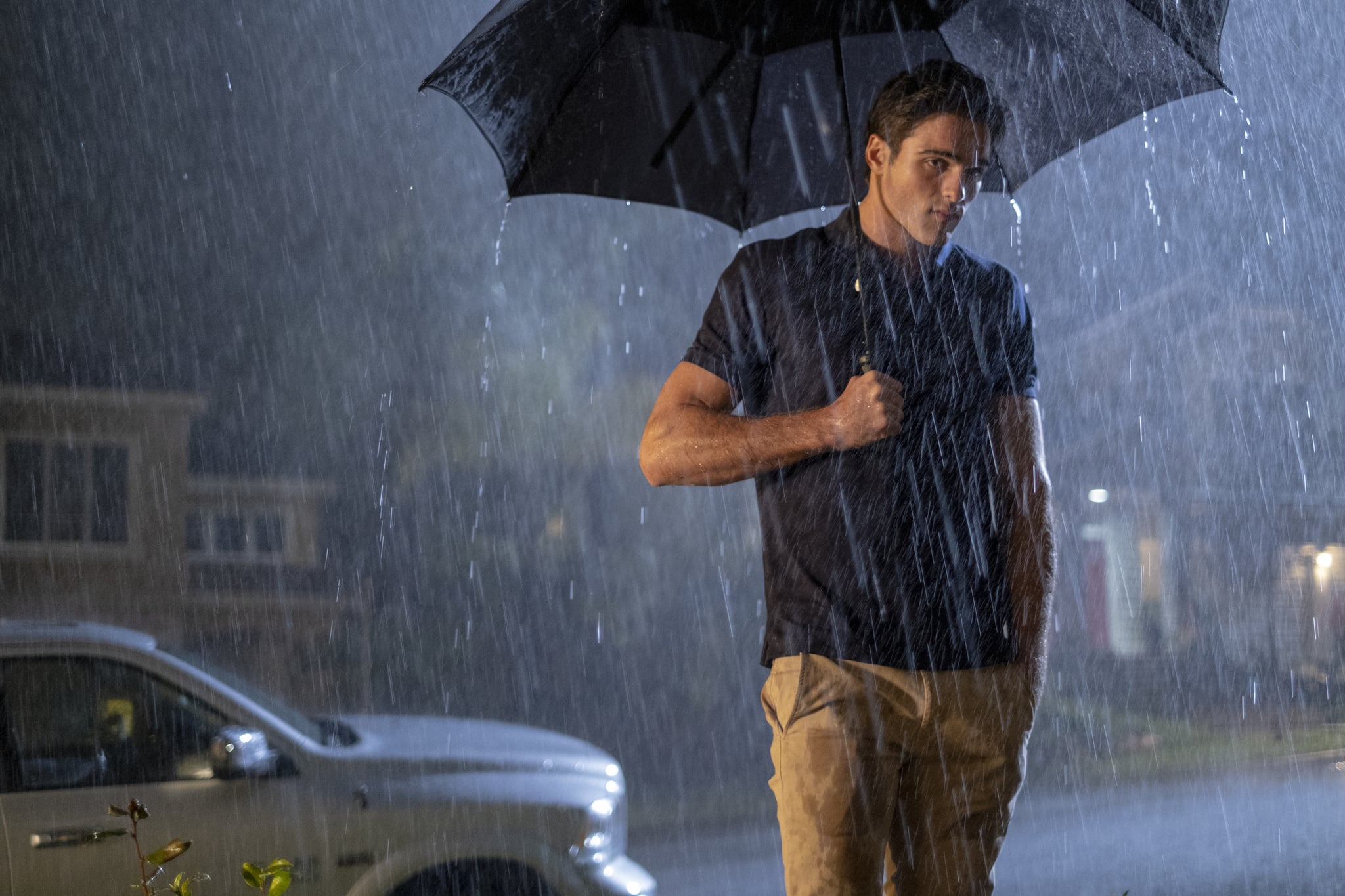 Jules though is a little distracted because she met a guy online. She's all swooned because who doesn't love the feeling of a new crush? Well, it turns out the guy she was texting was the same guy who hooked up with Maddy in the pool. Not crazy weird, sometimes towns are small. But Maddy complicates things when she decides to say she was blacked out in the pool. Ok, we gotta talk about this. If you get caught lying or being shady, DO NOT blame someone and say it was assault.- let's just not okay? Because what happens is society keeps being blaming a**holes about it and survivors just routinely get screwed. Nate stalks Tyler (Lukas Gage) and breaks into his house, beating him mercilessly because he believed Tyler raped Maddy. And for a moment, I wondered if he wasn't going to rape Tyler himself to prove a point. But after Tyler continues to maintain his innocence (because he is) Nate challenges Maddy who basically is like whatever-no-big-deal. And here's the kicker of the Nate and Maddy relationship. She embodies some but not all of the things Nate likes. She's certainly a lot mouthier than I think Nate would like a woman to be. But he has to maintain her. Routinely asking her out until she breaks down, buying the feminine lingerie that she thinks is ugly but that she wears for him anyway. It's all manipulation and control for her to be what Nate wants. And that's why I find Nate just the worst. Oh, and now he's texting Jules as Tyler and I have lots of questions over if he knows about that addition to his daddy's porn collection? Because if he doesn't, I bet he will soon.
A tiny bit more on toxic masculinity for a second and sex attitudes for teens. There is a double standard for women. Guys want the sex and the nude photos but as soon as one photo leaks then she's a slut. Cassie (Sydney Sweeney) and McKay (Algee Smith) was a moment I knew I had to address. He comes to visit since he's in college now, and after not seeing him all week Cassie is horny. But he just wants to talk and pushes her off. She's embarrassed and he says he's just focused on school. Well, later when she's tired he asks for nudes. NOPE. No thank you. You don't get to demand women to have the sexuality you want when you want it and for anyone reading this I'll say it loud for anyone in the back: WOMEN DO NOT OWE YOU NUDES. Period. If you want to send naked photos of yourself, that is your choice and you have to deal with the consequences of what happens but you don't owe anyone your body. FULL STOP.
We have plenty more ahead for this new show, and as we know high school is always dramatic, I'm sure we can expect some good drama to be delivered. While I did spend pretty much the whole episode saying Nate was the worst, the actor who plays him, Jacob Elordi, has an awesome behind the scenes moment where he breaks down Nate's mentality and how he approaches playing the character!