DIVORCE S3 – "Away Games"
|
One episode away from the series finale and the best episode of the season arrived this week. Frances (Sarah Jessica Parker) and Robert (Thomas Haden Church) find themselves at an away game for their daughter's basketball team. Frances, the chaperone, Robert and Jeremy (Dominic Fumusa) the coaches. Up until now, the writing has been decent enough to raise the stakes for this episode. And boy did they pay off. First up, Frances' "why" for the episode is clear from the beginning… Henry (James Lesure) said she's free to do what she wants, and with that kind of permission, will she?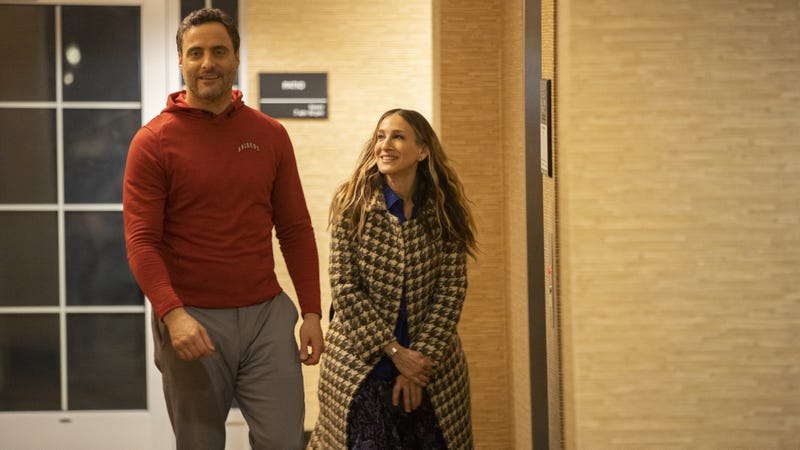 Sexual tension rises between Frances and Jeremy, and the two did a decent job flirting. Whether it was chatting over sex enhancement drugs in the local mart, or casual conversation about church and misbehaving, I was excited to see Frances step outside of herself. Meanwhile, Robert found himself in a pickle- should he cheat on his wife with the front desk clerk? While he says no, the battle is clear, and you can't help but realize that him seeing Frances and Jeremy together feels like ammunition to lash out and make an emotionally charged decision. In the end, Frances does go to Jeremy's room, only to get to 3rd base. In traditional Frances fashion, one of the consistent weak arcs of hers, she gets in her own way. She says no, and leaves, leading to one of the most visually stimulating arguments of the series. Picture it, Robert sees Frances sneak out of Jeremy's room, in the middle of him guarding the floor to ensure horny teenagers don't engage in sexual activity. The two people he said he didn't care about in a previous episode, are now the point of his anger. There she stands, in the middle of a fight, between two men who are arguing over the "basketball team" but the subtext screams they're arguing over something else. Sure the basketball season comes with its issues, but nothing felt more on time than this scene. Bravo!
My favorite, Diane (Molly Shannon), has to be the luckiest woman alive. Her male suitor, Gordon (Harris Yulin), literally hands her the world. He appreciates her "fireworks" of a personality and has a plan of his own. The pure comedy of their interaction is seen in Diane's acting. He takes her back to an apartment in the city and she walks through, assessing and dissecting this pad. He's offered it to her, and she's considering it. And then she walks into the master bedroom, and she sobers up. There's a bed here. An empty bed. And even though this place is hers, what are the strings? Her line of questioning, combined with her quirkiness, leads us down a path to what we all knew— if she wants these perks, she's gotta agree to give some sugar to daddy occasionally!
Finally, the most sub-par, and underdeveloped story-line got a moment to kind-of shine. Dallas (Talia Balsam) is summoned by the discipline board for, what we can assume, is her continued self- destruction in therapy sessions. She's not shocked initially. But, then we're introduced to a set of four practitioners, all summoned for their own respective violations, and it was the most exciting scene I've seen of her in this season. It is four "professionals" whining over the ways their clients have accused them of acting inappropriately. It's hilarious. It's also a great way for each of them to see themselves: Therapists, in similar life journeys self-sabotaging because they aren't doing the work they expect their own clients to do. Fight for your career Dr. Dallas!
I'm all smiles leading into the finale. This series is ending on a better note than it started. Cheers to a job well done! Here's a peek at the finale: