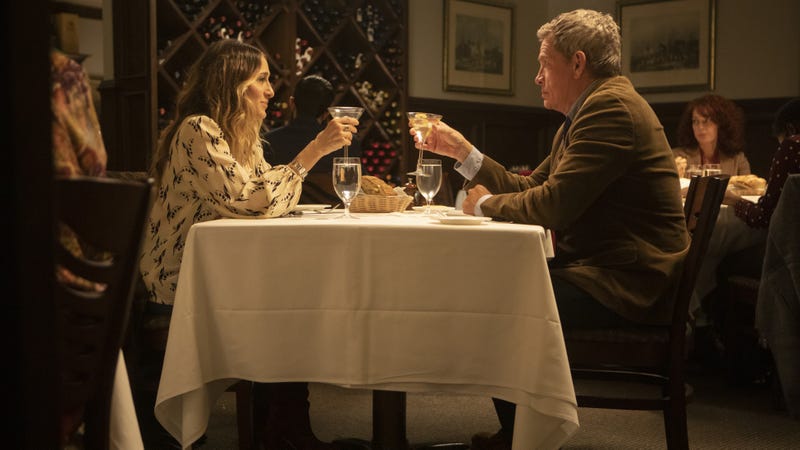 Our favorite divorcees are back at it in their third and final season. Sarah Jessica Parker and Thomas Haden Church are both incredibly talented and have awesome screen chemistry. I'll be sad to see this show go. I've quite enjoyed it for the last couple of years. But let's jump into the episode!
Frances and Robert have to break some big news to the kids regarding Jackie (Becki Newton) and her bun situation. Tom (Charlie Kilgore) and Lila (Sterling Jerins) aren't hugely thrilled and also a little annoyed. When parents get preachy to kids about birth control and then have an accidental pregnancy, it's a feeling of a double standard. Sure. But obviously an about to be married a second-time guy who already has two grown kids and his future wife who has one grown kid will be better suited for an accident baby than two teens.
With the wedding coming soon, Frances would like so much more to be out of town. Her beau, Henry (James Lesure) promises to whisk her away to Miami. Ooh la la! But before that, she needs to settle into her new job where it sounds like she'll probably be responsible for…well, everything. I have the perception Frances could probably be just the right breath of fresh air. I'm guessing she can probably get your website in a more respectable fashion and I bet she could get them more visibility too. She's able to calm Robert's nerves about the wedding. Which I can see where he's coming from. You just want it to last. You thought the last one would and it didn't so you're putting everything you believe in it, solidly hoping this one sticks. Yeah, I get it.
Henry tells Frances he won't ever get married again. Or at least highly unlikely to. Considering he's still legally married to his ex, he would have some rigamarole to go through first. Since the two own a business together it preserved the business better to stay married legally. Though she was still pretty comfortable just walking into his place considering she knows he's seeing Frances. And just when the couple is ready to hit the plane to Maimi, Lila goes MIA on Robert. While Frances does leave the choice to her, she makes a good point. You'll regret it far more in the future to miss something so important.
In the background, Diane (Molly Shannon) gets the chance at a big commission but gets the rug ripped out from under her. Ouch. Her husband sure did screw a lot of people over. But she's desperate to move out from living with Dallas (Talia Balsam) who seems so out of it. She's struggling with her relationship with her son and it's affecting her work even. Maybe she needs a vacation to Maimi. I'm looking forward to what's ahead and can't wait to see how everything will wrap up.