'Ballers' Final Season: Halftime Report
|
Halfway through the final season, the writers of Ballers are making sure we know the end is near at every turn. With Spencer narrating each episode, in what we can assume is an interview that'll capture his past, Ballers is maintaining a decent pace as they wrap up the successful series. We've already given you the premiere; here's a recap of the past 3 episodes!
"Must Be The Shoes" Written by Stephen Levinson & Rob Weiss; Directed by Chloe Domont
The mission is clear: secure $3 billion to own the Kansas City Chiefs. Spencer (Dwayne Johnson) goes to his saviors, the Anderson brothers (Richard Schiff & Steven Webber), and, with little struggle, convince them to go all in. In a nice plot twist, Spencer goes to Candace (Emayatzy Corinealdi), the NFL rep that's haunted him for the last two seasons and makes her an offer to be the President of the Chiefs. She declines, because like a boss, she has her own plan to be number two in the league leadership line!
Joe (Rob Corddry) has to muster the nerve to apologize to Dan (Sam Lerner), the Head of Branding, for calling him a 'pussy'. Which of course he does because they have an A-list baller in their midst, Odell Beckham Junior. With Joe leading the pact, they present their pitch: make OBJ the face of their new campus. I can get used to seeing more of OBJ in the final season! Ricky Jerret (John David Washington) is alive and reluctant to talk to the doctor, because, considering his age, and injuries, it's likely that he's no longer going to be viable in the league. The doctor advises that he has 8 months of recovery, which doesn't seem to matter because he's counted himself out.
Vernon (Donovan Carter) wants to be a dual-athlete; a football player and a gamer. Reggie, his sidekick, tries his best to level-set and put things in perspective. Vernon (London Brown), in need of a yes man, versus someone to give it to him like it is. In the end, he threatens to end their friendship if he can't support him. Charles (Omar Miller) has to deal with one of his players starting a gunfight at a Jack In The Box. In Charles fashion, he takes the word of his player, but it seems he's learned a little something. He's already begun to put out feelers for a replacement.
"Copernicursed" Written by Stephen Levinson & Rob Weiss; Directed by Chloe Domont
Spencer and his "almost" funded NFL team have to find a general manager to close the deal. His first plan, to make Jason (Troy Garity)his general manager. An obstacle Spencer doesn't see coming is Jason doing his research and going to Joe to see what it's like to work with Spencer.  Speaking of Joe, we don't see the two interact much as a result of their strained friendship. Using Spencer's new deal as fuel, Joe confesses that he's going to better himself. Making Jason's outreach all the more interesting. Joe manipulates Jason into selling him his agency and not taking the job with Spencer. In the end, Jason chooses Joe's deal and Spencer decides that he's the best person to be the GM of the Chiefs.


Charles' client, Kisan Teague's (Kris Lofton) case gets worse. His 9mm gun was found and he's being implicated in the shoot-out. What I can't seem to understand is why Charles passively addressed the situation in the first place. Instead of being forward, he took the long road when asking questions. But I guess that's the sweet thing about his character; at his core, he's just a nice guy. He does end up cutting him from the team after realizing the risk was too much, honesty was too expensive, and his team couldn't handle another loss.
Ricky is back in the gym, on the road to rehab, pushing himself at every turn. Which is weird and one of the misses of this series. It's over-fictionalized. Last week Ricky had a serious injury with an 8-month healing timeline. This week he's walking normal, lifting weights and very active. Ricky, on the deep-end, is ready to risk it all. Ladies, booze, you know, normal catastrophic behavior when Ricky doesn't have control in his life.
Vernon gets a reality check when he goes to try and game full-time. He fails and then gets an $80 million deal from the Cowboys. Instead of following the full-time gig, he says he's ready to retire at 28. Sheesh! Everybody's future in the league is coming to an end.
"Municipal" Written by Stephen Levinson & Rob Weiss; Directed by Rob Weiss
Spencer makes it clear that he's in a new space where it's about him and his own success. No fucks to give, money to chase, and deals to close, he wants it by any means necessary. Candace and Spencer's relationship continues to evolve. Candace promises that the video of Kisan in the parking lot will never see the light of day. But, we see her get something from the LAPD that she's reluctant to open. I couldn't help but think she's going to have to play the Kisan card in a way no one sees coming. Spencer decides to sign Kisan to the Chiefs.
Ricky, now exploring life after football, gets a gig with Sirius XM. Cocky as ever, he quickly realizes that having his own spot on the radio isn't as easy as he thought. But instead of talking about himself, he goes in on Spencer, challenging him and his decisions. Spencer, never avoiding drama, calls Ricky on his show and attempts to set the record straight. As far as he's concerned, he's in it for the players!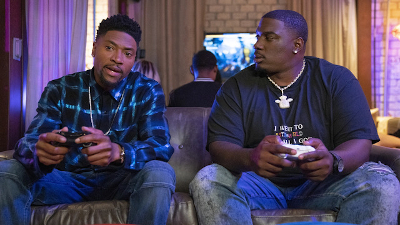 Charles, down two players, is hungry. He's stepping up and ready to find players. His contract is up and now he's ready to negotiate. For reasons unseen, his boss doesn't seem to want to talk about a contract extension. While Charles seems to be missing the subtext, I couldn't help but think… it doesn't sound like you have much of a future here buddy.
Joe, still power-hungry, celebrates his new purchase of Jason's agency. He hosts a party to stunt and celebrate, but we learn there's a reason his partner Lance (Russell Brand) is calling his recent decisions into question. Checks are bouncing and money is tight. Reggie finally gets Vernon to finally be on-board with his Cowboy's deal. His power play? Convince Vernon to start his own e-sports team.
Be sure to catch the final season each Monday night at 10:30pm on HBO and check back for our Post-Game Report!