HBOWatch Movie Review: "Fantastic Beasts: The Crimes of Grindelwald"
|
Admittedly, I am not immune to the wonder of Harry Potter and would easily consider (and admit) myself a Hufflepuff. So when Fantastic Beasts was originally announced, I was over the moon. More of the Wizarding World and especially a Hufflepuff main character? Yes, please! But when Johnny Depp's presence was made known, I was disappointed and I wouldn't even see this movie in the theaters. I'm not here to argue over his personal life, so please don't bother. I stand where I do for my reasons. But I did agree to watch it now and review it.
The main arc of the second installment of the Fantastic Beasts saga follows Grindelwald (Depp) in his escape from custody and attempts to garner followers. We learn right away that Grindelwald is extremely persuasive. And thinking back on any other cult leaders we've experienced, I think you would likely say the same. Persuasion is key for Grindelwald and he uses his words carefully. He's able to bait the good guys into force so obviously, it makes them look bad. Young Dumbledore is portrayed by Jude Law and he was by far my favorite part of the film. Law is perfect casting and embodies the character with his cocky and quirky personality. Everything we know Dumbledore to turn out to be, Jude Law brings the younger version to life brilliantly. But he won't move on Grindelwald and recruits Newt (Eddie Redmayne) to go instead.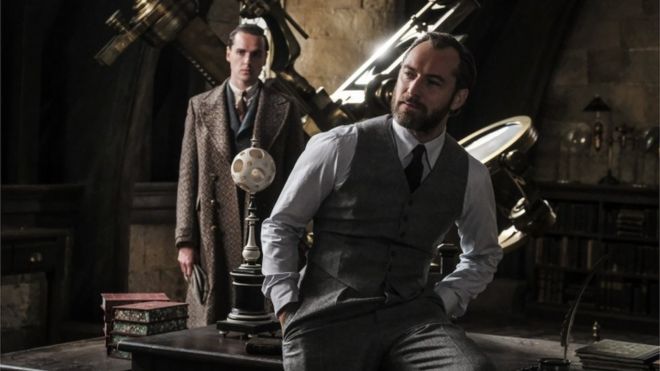 Paris is the center stage for everything to culminate in Grindelwald recruiting followers as well as Credence (Ezra Miller) who is searching for his birth family, which he believes to be the Lestranges. Newt is friends with Leta Lestrange (Zoe Kravitz) from Hogwarts, but she's now marrying his brother Theseus (Callum Turner.) Poor Tina (Katherine Waterstone) when she sees the engagement announcement and mistakes Newt to be the betrothed! Easy for her to run off to Paris in search of Credence. Though the moment where Newt is finally able to straighten it out with her is absolutely lovely, he took his sweet time about it. Also on the sidelines is Queenie (Alison Sudol) and Jacob (Dan Fogler) and I was pretty disappointed. Hexing your boyfriend to marry you because it's illegal is not okay. He clearly loves you and clearly wants to spend the rest of his life with you but to marry legally would literally put your life at risk. Particularly with the climate Grindelwald is cultivating, it isn't safe right now. Hypnotizing him into walking down the aisle is so not okay. And that whole part made me very uncomfortable.
To be honest, the film was a disappointment. Visually, it was still stunning. But there were too many storylines being thrown around and trying to follow it was hard. I expected Newt to be the main character but it also simultaneously felt like Credence, Leta, and Grindelwald were the main characters. At the same time, it didn't feel like an ensemble either. To me, there is no star of the Avengers and I feel it works like that. Arguably, Newt is supposed to be the main character but it felt like he was fighting to be there. I'm definitely interested in seeing Jude Law as Dumbledore some more, but I'm hoping maybe the next story gets straightened out a bit.
Nevertheless, it is all here for you at HBO. Fantastic Beasts: The Crimes of Grindelwald debuts SATURDAY, July  13 at 8:00pm.