Welcome to THE WHITE LOTUS: Episode 1 "Arrivals"
|
Ding! Checking in? When I saw the preview for this one, I was ready to practically beg to cover it. That cast, that scenery, and mischief afoot?! Yes, please!  We start at the end of the vacation week for these characters, watching a slightly more tan Shane Patton (Jake Lacy) prepare to return home. He's tense when asked questions by a couple seated next to him. Why so serious? Anything to do with the human remains being loaded on the plane? Ok, so stakes are high right out the gate. Based on the preview, there are a few possibilities for who could be in that box and I'm already hella nervous.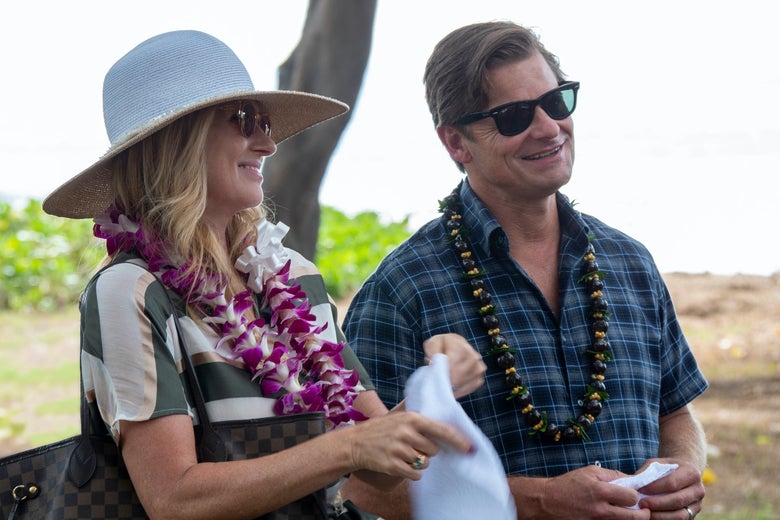 Flashback a week earlier and the guest's arrival on the island; all the fancy VIPs get their own private boat to the resort. Fancy pants indeed, I can only imagine how much it would actually cost to stay there. But on the boat, we get a sense of why everyone is on their way to the island. Executive momma bear Nicole (Connie Britton) is bringing the family in tow for some downtime. Hubby Mark (Steve Zahn) has a little bit more on his mind, however, waiting for medical test results. He seeks out time with his son which I think could end up with some cute bonding moments. Meanwhile, their daughter college sophomore Olivia (Sydney Sweeney) and her pal Paula (Brittany O'Grady) are soooo over it. I'll admit, who hasn't played the "Guess That Person's Backstory" Game but also could you girls be any more steeped in your privilege and haughtiness? I'm definitely the type to read Freud on break, but no need to be snobby academics who think they're better than everyone. You girls haven't seen enough of the real world to be that disdainful.
Shane and his new wife Rachel (Alexandra Daddario) are excited for their honeymoon, at least until he realizes they aren't in the suite they paid for; well, that mommy and daddy paid for. I'm with Rachel, it's not that big of a deal but I grew up without money and people kissing my ass so I'm accustomed to taking what I get. Not Shane, who really feels the need to stick his nose down this rabbit hole. He may or may not be right, but it's the principle of it. You're at a really nice resort on a vacation you didn't pay for and you're complaining? Sit down, dude. It's your honeymoon, but check yourself. I have a feeling Rachel is going to start seeing her new husband in a very different light soon. Then there's the lovely Tanya (Jennifer Coolidge) who lost her mother and is seeking spiritual guidance and release. I'll be honest, I'd watch Jen read a phone book for several hours because I bet it would be gut-busting. I have a feeling I won't be able to keep it together for her scenes because she just utterly cracks me up. I can already see her relationship with Belinda (Natasha Rothwell) being an interesting one, especially Natasha being another actress who just smacks my funny bone. Belinda is the resort's spa staff.
Meanwhile, we have the hotel manager Armond (Murray Bartlett) who is in charge of wrangling guests and staff. He's showing the newbie Lani (Jolene Purdy) the ropes and his whole speech about interacting with guests just killed me. Because it is 1000% how these fancy places operate. Anticipate every whim of the rich person but don't reveal yourself to be a human. You're behind a mask. I totally get it, but listening to Bartlett spell it out was so funny. "A few reefs are still thriving." I mean, you can't usually make me laugh about climate change, but that did it. I can see the dark route this character could take moving forward and I'm so excited to see how his interactions with Shane progress. Their one-upmanship is quite hilarious and leading to some kind of massive confrontation I'm sure. But he did admit to his staff there was an error with double booking. I'm sure it is the kind of thing that happens, but most people would just move on and let it go. Not Shane though, and that could be quite the downfall for him. But it's Lani who carried a big secret into her first day and I can't blame her. Getting a job is hard enough, telling people you're almost about to pop isn't going to go well. We'll see how her job looks moving forward, but considering the stories I've heard of women keeping their pregnancies secret during the pandemic, I'm rooting for her. Why should your choice to be a mother have any bearing on if you can do your job?  Kids are obligations, sure, but high-powered exec Nicole does it so why can't Lani? I'm utterly hooked already, especially knowing who else is coming to the island for a visit in the coming weeks. I don't know what else will be afoot, but someone goes home in a wooden box and I'm so anxious to find out who. Based on the first episode, who do you think it is?  My money is on someone who hasn't even arrived on the island yet… Tune in next Sunday, July 18th for our next installment at the White Lotus!