Try Max Now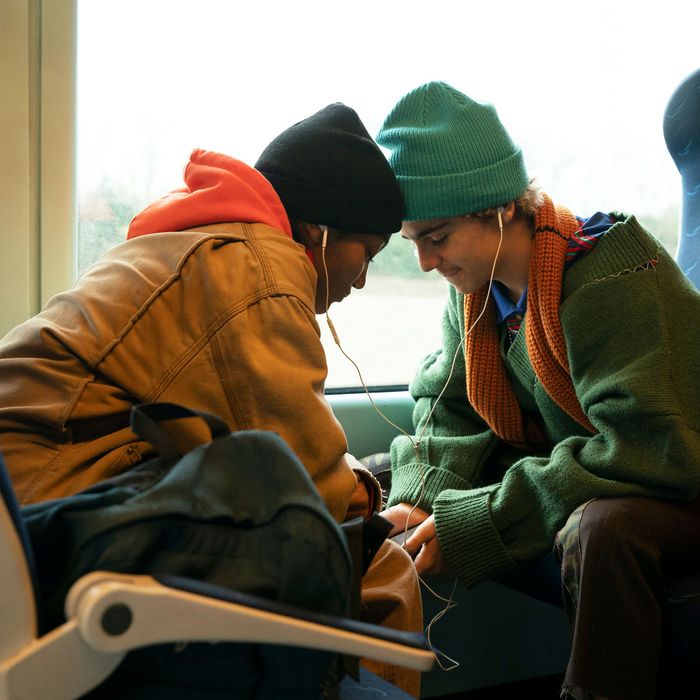 We've reached the end of the road for Fraser (Jack Dylan Grazer) and Caitlin (Kristine Jordan Seamon). It's Cait's last day on base, packing up before the family relocates to Chicago before somewhere else. Britney (Francesca Scorsese) visits to help and say her goodbyes. She makes a move, kissing Caitlin, telling her it's always been her. Caitlin returns the smooches but doesn't feel that way about her. Hey, at least you know now. That won't be an unanswered question. Though she hasn't spoken to Fraser, she gets her concert notification and runs off with Fraser into the night.
The two make their way to Bologna for the concert. Typical youth fashion, hopping trains, not enough money to actually do anything other than eventually walking. While getting ready on the train, Harper asks Fraser if he likes her this way. He says, he doesn't know. Is she still herself? Harper doesn't love that answer, but they continue on their way to the concert. Eventually, Fraser opens up about Mark. He was just a guy from school, no actual connection, just an imagined one by Fraser. What a beautifully brilliant scene by Guadagnino. I know I've imagined that kind of thing myself, you wish you had a connection with someone who doesn't know you exist or rather would never actually acknowledge your existence. He also admits to using Sarah's (Chloe Sevigny) credit cards and she pretends he doesn't as payback for always befriending the people he brings home. He also admits to hating her a lot. Their whole family dynamic is just…idk, loving but like weirdly toxic. They have their own existential, "we don't really exist" moment before managing to catch a ride to the concert.
Once they get there, they end up separated. For such a big moment they've been leading up to, I was surprised they immediately separated. Fraser heads towards the stage with his new friend from the car, while Harper sets up by the bar. I mean, Fraser kind of ditched Harper and he decided to chill by the bar instead of pushing through the crowd. Harper vibes the barkeep, and she gets him in with the group after the show, even getting a pic. The leader of the band asks which song is Harper's favorite and he plays that when he returns for the encore. Wow, talk about hella cool band moment. I would lose it if my favorite band played my favorite song as requested for the encore. But is Harper happy? Is this who Cait wants to be?  Does she want to be Harper? Does she want to deal with everything that it means to transition her life and be transgender? The upside-down cinematography was stunning during this scene as she's finding out who she wants to be. She texts Fraser that she has to go, she needs to make it to the train. Meanwhile, he hangs out with his new fashion buddy, having a kiss of his own. He makes it to a local landmark, said to have the most beautiful view in the world.  And at that moment, Fraser knows who he wants to share this with. He races back to the train, grabs Cait, and drags her to the spot. As the light slowly returns to the sky, Fraser and Caitlin kiss. The actors said it best in their interview. Fraser and Caitlin both live in their own worlds, with a little bubble for each other because they fit in their own worlds. Guadagnino leaves of saying this is season one, so could we perhaps get more time with Fraser and Caitlin? Could we see a season 2 navigating distance as Cait relocates and they discover their new feelings for each other? Or are we left with the lovers' kiss?  If we get another season, it has to be helmed by Guadagnino or I revolt.