Togetherness Season Finale: "Not So Together"
|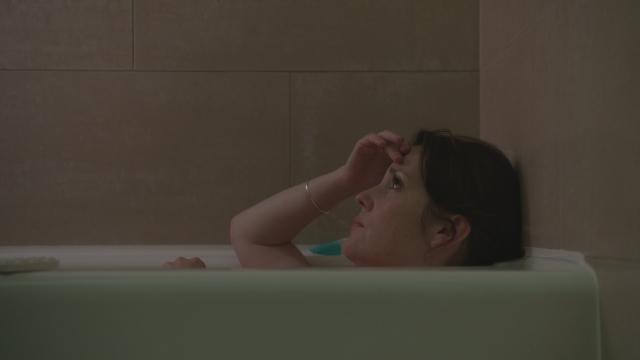 If you were looking for this Season One finale to have a happy ending for everyone, stop right now. This episode was bittersweet, in a word.
Tina thinks  she is getting her happy ending (sort of). By moving in with Larry and having him take care of her, she feels that this is a correct decision and that she's finally saved. At least she won't be alone or hurting for finances. She's convinced herself that this is the right path for her because when you're tired of being a failure, you gravitate towards something that feels like success. Alex thinks and feels differently about what Tina is going to be doing with her life. Brett and Michelle are together, but so very far apart, in terms of feelings, dreams, hopes and the state of their marriage. David, like a white knight on a steed, attracts Michelle on many levels – she feels like he empowers her, validates her and makes her feel. This is something Michelle has been struggling with the entire season. This attraction has teetered on the verge of becoming wholly indecent. Brett feels some sort of peace and enlightenment after meeting Linda. He's not attracted to Linda. He's just happy at finally feeling some inner peace and feeling a little more grounded with himself.
In this episode, we see Michelle, David and a few friends going off to a very important school board district meeting. We find out a little more background information about Michelle during the meeting. She attended Berkley and worked in Social Work. She is actually a very good orator, especially when the topic is so dear to her. Attending this meeting, she wows the council with some of her ideas and her work experience. She also wins them over with how passionate she is about having a school for her community and her children. Alex gets a call that changes his life in the best possible sense: he has been cast in an upcoming movie. He receives third billing and is absolutely thrilled. Good news travels fast. He calls Brett. He tells Michelle. Who he really wants to speak to at that particular moment in time though is Tina.
We know he is in love with her and wants to try and make her happy. Attempting to see her (by hitching a ride with a moving company, then cycling on a bike and trying to bring her a bouquet) – while interrupting a his and her massage in progress, with Larry present, no doubt – makes the scene even more intense. He delivers one of the most poignant lines of the night: "I'm not jealous of Larry. I don't w
ant to be Larry. I want to be me, with you." And Tina cannot handle the brutal honesty; Alex forces her to really think about what she's doing with Larry. She struggles and cries, stating it's better that she stays with Larry. While Alex isn't buying it, he has no choice to leave, after being rejected.
Brett attempts to bring his daughter to school. After a minor tantrum, he asks her what she'd like to do and she responds by saying she just wants to hang out with her dad and Frankie. They go to the beach. This is kind of funny, especially when you consider how the beach atmosphere was in the season premiere. They enjoy the day together and Brett looks and feels happier than he has in a long time. After Tina's rejection, Alex ends up on the beach, only to reconnect with Brett and the kids. They have a heart to heart and Alex tells Brett that he needs to repeat his feelings about being "excited, like when you're going off to college and your life can be anything" to Michelle. It may prove to be a relationship saver. Feeling inspired, Brett packs the kids off at a babysitter and heads on down to the hotel where Michelle is staying the night.
Michelle and David are staying in hotel rooms that are separated by adjoining doors. You just know this spells temptation in the worst way possible. The two are seen tossing and turning. They both lie awake; clearly struggling with the door that keeps them apart. What makes this last scene between Michelle and David work is how intense, moving, exciting and sad it is at the same time. They pass notes back and forth under that door like a bunch of teenagers. The song that plays during this drawn out, intense scene is "The Wilhelm Scream" by James Blake. It's perfect. The two struggle with their feelings. Michelle, at one point, looks guilty, then relieved and then completely excited. In the dark, when that door opens, we all kno
w what's going to occur. David and Michelle exchange a passionate embrace and commit adultery. There's no happy ending here: while Michelle and David give in to the physicality of their feelings, will this turnout to be a passing phase for Michelle or will this turn into an actual relationship that she will want to build? Where does that leave Brett (who, by the way, is on his way to see his wife without a clue of what's taking place) and does this mean their marriage is over for good?
Will Tina wake up in time to discover that she only has financial security with Larry – and nothing more? Will Alex find someone who is worthy of his love and devotion? Is his new career enough to keep him satisfied? Will Brett find out about Michelle's affair – will he forgive her and move on or throw in the towel? Is there such a thing as a second chance? Can we bear to wait for a Season Two?
We leave you with an Inside the Episode clip with Jay & Mark Duplass.