The Young Pope: "Episode Six"
|
While the season has certainly been full of interesting moments, this episode starts off with a bang. Or rather, some banging. And we learn that many who take the priest's cloth do not, in fact , abide by its rules. Lenny's childhood friend Cardinal Dussolier is not only having sex outside the priesthood, he's having threesomes with a man and a woman.  Oh, my.  What would Lenny say if he found out? Or perhaps, he already knows?
The episode is nine months after the last, giving Lenny a little time to settle into his life as pope. Esther has given birth to her miracle child and named the boy Pious. It is very clear that Lenny is uncomfortable around children, though he does hold Pious for a moment. And in truly one of the most startling moments of television I have ever experienced, he nearly drops him.  The look on Jude Law's face is absolutely priceless.
One of the most interesting parts of the show, in my opinion, is the idea of politics involved in religion. Another great account of this, especially in the Catholic church is the show The Borgias.  Similarly, these two shows delve into the decisions being made within the church politically as well as the political decisions the church can make en large.  While separation of church and state is important, it does not eliminate the political power behind the entire Catholic church.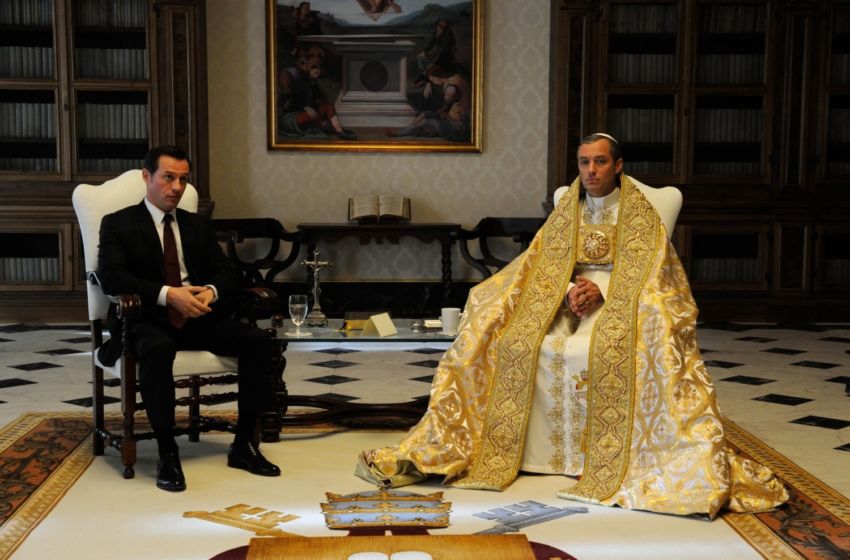 Lenny meets with the Italian prime minister, who is open to having more liberal attitudes in Italy including respecting gay marriages and women's rights. Lenny…not so much. He makes a list of demands that he wants the church to move towards. Some of which are incredibly exclusionary, particularly that no homosexual be allowed to enter the priesthood.  Cardinal Dussolier takes particular offense to this, for obvious reasons.  As does the Italian prime minister who begins referring to the constituents who voted him into office.  Lenny doesn't appreciate this much and the two have some beef.  Because it is important for the prime minister to fully realize the extent of the power behind the Pope. He has the entire Catholic church at his beckoning, and with that, Catholics all around the world who are true to the faith. Now many Catholics might choose to disregard the pope or not follow his instructions, but the majority will. And what kind of affect would that have on the reelection for the prime minister?