Try Max Now

From the desk of Emmy-nominated Insecure creator, star, and producer, Issa Rae, Rap Sh!t premiered on HBO Max, welcoming us into the world of women rappers and all that comes with it. Here's a look at the new series and a recap of its launch.
Based in Miami, FL, two childhood friends, Shawna Clark (Aida Osman) and Mia Knight (KaMillion) rekindle their friendship flame, but not to start a rap group; initially. We first meet the conscious viral rap sensation Shawna, working at a hotel. I should start by saying that the aesthetic of the show is dope. The scenes ebb and flow through the lens of a phone. Sometimes recording live and other times through the generic camera application. Either way, it's a creative medium to utilize, especially because so much of this world not only sits on social media but introduces us to the key players and influencers.
We quickly learn that Shawna ( at left) is juggling her job and battling feelings around a failed producer partnership with her previous schoolmate, Francois Boom (played by Jaboukie Young-White), who has since found a bit of success by molding a white acoustic mindful artist into a BBL wearing, over-sexualized woman. In conclusion, Shawna ain't with that shit. She lets her work bestie Maurice (played by Daniel Augustin) know, and her boyfriend, Cliff (Devon Terrell) know as well. At this point in her life, Shawna's relationship is on the rocks, she's hella opinionated on the industry, often sitting in the "goody two shoes" space.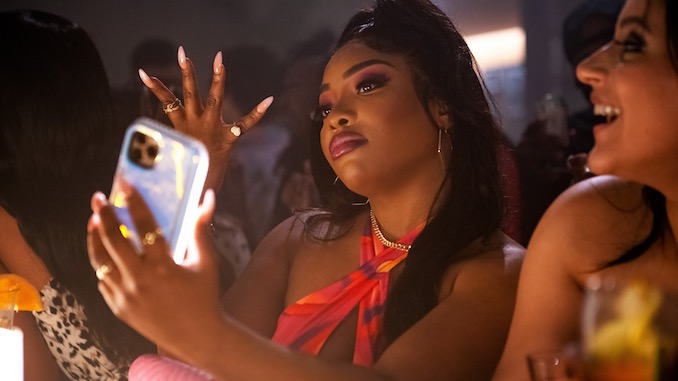 Our other leading lady, Mia (at right) is a full-time mom & make-up artist and identifies as a women's empowerment influencer, just on the other end of the spectrum. Like Shawna, she wants to empower women, but through the power of their pussy and looks. From where she sits, men will look anyway, why not capitalize and own the narrative? Mia is dating a producer/engineer Lamont (RJ Cyler), which is one of my favorite storylines in the series so far. Watching the ways in which men in the industry clutter in a studio, long nights, and come up on their success, versus watching two women hustle up, is going to be a fun ride. We also learn that Mia is a cam girl, providing specials on Tuesday nights for her viewers. The girl hustles, and lives by the motto, "seduce and scheme."
After calling in a favor for Shawna to watch her daughter at the hotel while she works on a client, Mia finds herself hanging with Shawna one evening. While they hang, they realize, there's some magic there. The two lost their footing because Mia felt like Shawna became "too good," going off to college and choosing a different path, neglecting her day ones. Shawna takes a moment to be vulnerable, sharing, she never graduated and basically got played. Oh, all the while, they're on IG live. The comments are WILD! The two decide to do a freestyle to Miami rapptress Khia's "K Wang" song, and let's just say, we have magic! Shawna lets her hair down, leans in to her crafty word play, while Mia rides the beat, hyping her good sis up. They wake up to find that their moment is viral, and the girls decide it's time to make a group.
Phew! I've already watched the pilot a couple of times, and I must say, I'm addicted. These two women are so layered and interested. Shawna, on one hand, has her oddities and quirks, but is stealing credit card information from clients at the hotel on the low, making her journey all the more interesting. Meanwhile, Mia, does her shit, and owns it, seemingly, allowing Shawna some much needed freedom. I enjoy seeing two "different" people, coming together, lifting each other up, loving on each other, and making some fire ass music.
Rap Sh!t has already been renewed for a second season, so enjoy the first season ten toes down. I feel like Issa and team have created another moment for the culture! Do you agree?