Movie Review: Neighbors 2: Sorority Rising
|
What do you expect going into a Seth Rogan film? If you answered an opening sex scene including vomit, then you answered correctly. In this sequel to the hit Neighbors, our lovely couple once again finds themselves at odds with a bunch of young people over territory.
When Mac (Seth Rogan) and Kelly (Rose Byrne) discover she is pregnant with their second child, the couple decides to look for a bigger house.  Their house goes up for sale and closes into escrow for 30 days.  During escrow, the buyers of the house have time to do inspections and have the option to back out of the sale if anything goes amiss. Unfortunately for our comedic duo of a couple, the old house next door becomes home to a sorority.  
Shelby (Chloe Grace Moretz) wants to rush a sorority, but when she brings up partying it becomes apparent that sororities cannot hold parties and what is the point of greek life if you can't throw parties? She attends a party at a fraternity only to see that it has a No Means Yes sign and questionable drinks and the mission of every guy there is to get laid. With the help of new friends Beth (Kiersey Clemons) and Nora (Beanie Feldstein), the girls set out to start their own sorority. But when cash gets strapped and the girls have a hard time handling the situation, who should appear to help but Teddy Sanders (Zac Efron).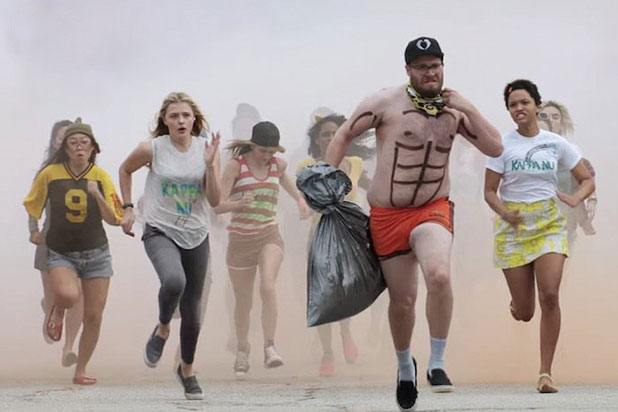 Teddy's friends are all moving on with their lives post-college. One friend is working as a police officer. Another friend created an app that makes penises look bigger in pictures.  And Teddy's best friend Pete (Dave Franco) is getting married. Teddy's last chance at being fulfilled in life is to help these girls run their sorority. Unfortunately, his version of success doesn't jive with the girls, who quickly let him know he isn't needed. So he switches to team up with his old rivals and defeat the girls who have taken over his old frat house.
While the plot plays a lot like the first movie but with girls, it doesn't damper the comedy chops of the cast. Seth Rogan has proved himself time and time again as a comedic actor. But who really shines is Rose Byrne, who I feel is highly underrated as a comedy star. Zac Efron plays the dumb frat guy well, but it is almost a detriment since I know from Mike and Dave Need Wedding Dates that he is capable of more. Chloe Grace Moretz's performance is very similar, a dumbed down character.  She's also capable of more comedy than that but you play the character that was written.  
While the premise is weak considering it is basically the first movie but with a sorority not a fraternity, I wasn't expecting much from it. But the underlying theme of the film is a good one. The driving force for the girls to start their own sorority is that fraternities are the only ones allowed to throw parties, and when they go to a party it is teeming with jerks who are willing to do anything to get laid. Even the stairs are lit with arrows leading upstairs for sex.  The girls decide they want to have parties but the whole point being empowerment and just plain fun. Not every party in greek life has to be rapey, No Means Yes parties. This message I quite appreciated. Sexual assaults on campuses are a very large scale issue, and in college it would have been nice to know there was a place I could go party when I would feel safe and not at risk of assault. The girls are proving they can have fun and be empowered at the same time. And this is important. With a repeated plot supported by great actors and a great playlist, it's a decent watch.
Neighbors 2: Sorority Rising debuted Saturday, March 10 and can be seen across HBO's platforms now.