Movie Review: "Miss Peregrine's Home for Peculiar Children"
|
Many of the movie reviews I have done over the past couple years have had a book that preceded the film and in most cases, I have read the book.  Or at least, I read the book if I was interested. (Sorry, Bourne series.)  This was the first time I have been unable to read the book before watching the film and was disappointed by that fact.  But having heard about the interesting story behind the book, I pushed aside my habit of being a book stickler and checked this film out.
Written by Ransom Riggs, this book follows the adventure of Jacob Portman as he discovers the stories his grandpa told him in his childhood were actually real. After finding his grandfather dead, Jacob sets out to learn more about his grandfather Abraham's childhood home, run by the elusive and fascinating Miss Peregrine. Her home filled with peculiar children became Abe's home until he went off and joined the army. When Jacob arrives he discovers that all the characters of his youth are real and all their peculiar talents exist. But Jacob discovers so much more!  Not only did his grandfather have his own peculiar talent, but that Jacob has inherited it too. However just as he creates these new friendships and feels a sense of belonging, he finds out that their existence is in peril by corrupt peculiars called Hollowgasts.  After Miss Peregrine is taken hostage, Jacob's peculiar power becomes key to the group's survival and rescue of Miss Peregrine.
The story itself is just as amazing as how it came to be. Author Riggs loves to explore abandoned buildings and find old photographs. His collection of photos amassed and the idea was to use them to create a book. It was originally intended to be a picture book, but after advice from an editor, he created a narrative which would become the adventure of Jacob and the peculiar children. Sadly, I don't know if the movie is more truthful than not to the book. But I am still interested in reading it, if only to be able to see the difference for myself.
I found the movie very enjoyable to watch.  The cast is dotted with delightful actors, and leading the pack is Asa Butterfield, Eva Green, and Samuel L. Jackson. Butterfield's casting as Jacob was well done, in my opinion. He brings an sweet, earnest quality to Jacob as a boy who is looking to belong. Green delights as Miss Peregrine, a complex but protective woman who loves nothing more than watching peculiars embrace their talents and be happy with who they are. Jackson is also delightful as the oddball villain who is menacing but also kind of funny, which is frankly off-putting but also enjoyable.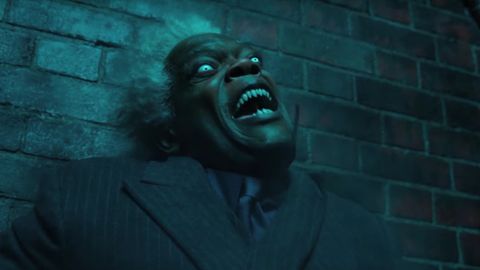 The cast is rounded out by a few more well known names (Allison Janney, Chris O'Dowd, Rupert Everett, Judi Dench) but the delightful cast of youth truly bring the heart to the movie. While working with children is often considered most difficult in film, it cannot be denied that the adorable kids of this film are what make it shine. Watching everyone delight in their talents and show off for Jacob is heartwarming, and even better is when they all come together to prove that not only are children smart and capable of making a difference, but that being different is something to be proud of. And that's the best message in my opinion of this film.
You could get into the semantic arguments about time travel and stuff, or you could see the base of this movie as a kid who never fit in anywhere and finding a home with other people who are different. Today in society there is so much emphasis for kids to "fit in" and "be popular."  But there is freedom in being yourself and loving what you love and not letting anyone stop you from being you whether you have awesome magical talents or not. I highly suggest this as a great family film and wonderful message more kids need to hear.