Movie Review: Mike and Dave Need Wedding Dates
|
With what I thought was a weak premise to start, I wasn't sure how I would like this film. But much like a watered down drink, you add more alcohol (in this case four outstanding comedic leads) and mix it together (killer soundtrack) and pour it into a gorgeous glass (beautiful scenery) and you might just have a pretty kick-ass cocktail. Or film.
Mike (Adam Devine) and Dave (Zac Efron) are two wild children that have a penchant for ruining every family gathering they bother to appear at.  With their little sister Jeanie (Sugar Lyn Beard) about to walk down the aisle, everyone knows those two need some supervision if the wedding is going to go off without a hitch.  The guys originally take to Craigslist to find dates, but once that goes viral the brothers end up on the Wendy Williams show.  Seen by Tatiana (Aubrey Plaza) and Alice (Anna Kendrick), these two down and out girls decide they will do whatever it takes to be nice girls who get to go to Hawaii.  Hilarity ensues.  Some bad stuff goes down.  But with enough heart among four selfish people, they set things right.
I was unsure of the premise at first.  Only to find out that it is actually a true story.  Yeah, true story.  Two brothers needed dates for their sister's wedding and turned it into a memoir about double dating.  The actual story ended up more tame in regards to the wedding, but how freaking insane that these two guys became insta-famous for needing wedding dates?  Such the world we live in these days.
The cast is undeniably fantastic.  The lead four actors had me cracking up the whole time.  Actually laughing so hard I was crying.  Devine is mostly a secondary actor in films, possibly most recognizable as Bumper from Pitch Perfect and Pitch Perfect 2.  I am so glad that in this film he has finally scored a lead role because with his comedic chops, it is well deserved.  Efron also shines as a comedy leading lad, but who can forget little Troy from High School Musical?!  Some of his comedic roles lately have been pretty similar, or so I've heard.  I found this character to have enough genuine attitude and sweetness to be refreshing.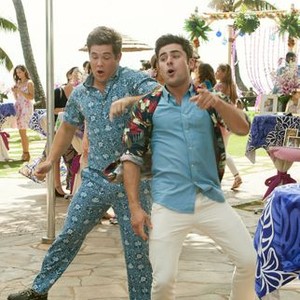 But to me, Plaza and Kendrick are the real stars of this film.  These two ladies have so much sass and sarcasm and sweetness that I am pretty sure I would jump off a building if they asked.  Not to mention they are best friends in real life.  Plaza shined in comedy as April on Parks and Rec.  Kendrick has also honed her comedy chops with such films like Pitch Perfect and Trolls.  With such talent between the four of them, I wouldn't be surprised if most of the writing was allowing them to freestyle and improv the script.  Beyond the four leads, Stephen Root, Stephanie Faracy, Alice Wetterlund, and Kumail Nanjiani rounded out the cast with fantastic performances as secondary characters.
The soundtrack had some killer music to groove to.  Whether embracing the soothing sounds of Hawaii and island life or dropping beats to jam on, the soundtrack kept pace with the film very well.  With such hits as "GDFR" by Flo Rida and "Kids" by Sleigh Bells, the energy stayed up with the comedy.  But even the soothing Hawaiian sounds were perfect to match the utterly gorgeous backdrop of the islands.  The cinematography was consistently solid, but when you're filming in place like Hawaii it's almost kind of cheating.  How hard is it to make Hawaii look gorgeous?  Not at all.  In the end, if you want a film that will make you laugh and take your mind off of life for a while, this is a solid choice.
Mike and Dave Need Wedding Dates debuts Saturday, February 25 at 8:00pm on HBO.