Lovecraft Country Episode 7: "I Am"
|
"When I was a kid, I thought I was big enough to have every right to name something out of this world, and then I just started shrinking myself."
Episode 7 of Lovecraft Country is about reclaiming space, both literal and metaphorical. Our lead on this outing is Hippolyta (Aunjanue Ellis), who has been investigating the death of her husband George. After finding Diana's comic in Ardham (George carried his daughter's comics with him), she decides to unlock Hiram's Orrery, which she found in Leti's house. Inside the orrery, she finds the coordinates of a space observatory. Using her phenomenal mathematical skills, she is able to activate the observatory and open a multi-dimensional portal. Two policemen enter and try to stop her. Luckily, Tic has caught wind of everything (Leti found the orrery and called him). After a struggle, the policemen are down, and Hippolyta is pulled into the portal.
Meanwhile, Leti and Ruby are trying to make amends. Leti begins to dream of Tic's ancestor Hanna. In fact, it's the exact same dream that Tic's been having, except in Leti's dream, she is pregnant. Tic decides to visit his mother's family to learn more about the legacy she gave him, including the possibility that Hannah took the Book of Names and passed it down to her descendants. For her part, Ruby is taking some time away from William/Christina, and spends her time taking care of Diana during Hippolyta's absence. She tries to bond with her sister, who has apologized for the lies and the distance between them. Does Ruby truly intend to forgive Leti? Has Christina told Ruby to spy on Leti?
The focus of "I am" is Hippolyta's journey. Once she has gone through the portal, she finds herself in a futuristic space prison, but she is informed that she is not in a prison. A magnificent, otherworldly creature tells her, "Name yourself…where do you want to be?" At first, disbelieving her own mind and senses, she asks to dance with Josephine Baker in Paris, and her wish is immediately granted. After spending some time with Ms. Baker, Hippolyta sees clearly, perhaps for the first time, that she carries a deep, deep anger inside:
"Being here has only shined a light on that old dead feeling. Now that I'm tasting it… freedom like I've never known before… I see what I was robbed of back there. All those years I thought I had everything I ever wanted only to come here and discover that all I ever was was the exact kind of Negro woman white folks wanted me to be. I feel like they just found a smart way to lynch me without me noticing the noose… Sometimes I just… I wanna kill white folks. And it's not just them. I hate me. Hate me for letting them make me feel small."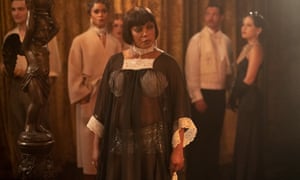 Hippolyta realizes, correctly, that her race and her gender have made others try to shrink her, diminish her. In a previous episode, she had told her daughter Diana that when she was younger, she had won a contest to name a comet, but Hippolyta never received credit, as organizers didn't want a little black girl as the face of their competition. It is notable that this episode was written (Misha Green and Shannon Houston) and directed (Charlotte Sieling) by women, as the issue of space is keenly explored in feminist theory. Little girls are taught that it is not "ladylike" to sprawl out and spread out as a boy would, that they should occupy less space. At different times, some cultures have literally bound the bodies and body parts of their little girls so that they don't grow as much as boys. In the classroom space, little girls like Diana and Hippolyta, born with a curiosity about math and science, start off with the same level of excellence as boys in STEM, only to become more and more distanced from these subjects as they grow older, especially if they are schooled in co-ed settings, proving that social norms drive women into certain spaces and away from others, diminishing them as Hippolyta has been diminished.
With her newfound knowledge and power, Hippolyta proudly states her name and becomes a member of the Mino, warrior women of the African Kingdom of Dahomey, called Amazons by the French, who fought them at the end of the 19th Century (Hippolyta's name is itself a reference to Hippolyta, Queen of the Greek Amazons, while her daughter is named Diana, like the daughter of DC Comics' reinvention of Queen Hippolyta. The Freeman women are named after queens and goddesses, so why are constantly crushed under the heels of others?
After learning to become a warrior, Hippolyta confronts the most heartbreaking oppressor of her life: her beloved husband George, who never meant to hurt or limit her, but nevertheless did. Visiting a reality in which George hasn't died, Hippolyta explains to him:
"By the time I met you, I'd already gotten so small. And I thought you knew how big I wanted to be. I thought you saw me but you just stood by and let me shrink myself more for you."
Hippolyta thus personifies the struggles of so many women, kept in their place- in their confined space- by society at large, and even by those they love. To his credit, George offers a sincere apology, and Hippolyta invites him to her next adventure, despite the fact that he had never invited her to join his. Hippolyta and George thus travel through space and confront the majestic being again. Hippolyta is offered the opportunity to ascend to a higher state of being. How could the new Hippolyta fit inside the reality of the older, smaller Hippolyta? Of course, there is also a child to consider, a child that has already lost her father. Will Hippolyta shrink herself once more?
Next week, we'll find out what the future holds for Hippolyta's child, Diana, another little black girl filled with talent and imagination. Will she get caught up in the tragedy that approaches her friend Bobo during his ill-fated trip to Mississippi?