Limited Series 'Mrs. Fletcher': Ep2 – 4
|
This new limited series is amping up with Kathryn Hahn as the eponymous Mrs. Fletcher. Taking on a single life with no kids in the house means free will and free reign. What wonderful shenanigans can she get up to? We'll find out but first, to refresh your memory of how it all began, here is our post of the premiere episode. 
Episode # 2 – "Free Sample" 
When having dinner with her friends, Eve (Hahn) speculates that she's not sure if she's ready to date or not. Her sexuality is opening up with her new appreciation of pornography; how much does she want to open herself up? Does she want to try going on a date? Or is she content with her imagination? It's clearly doing a number on her enough to decide to give some guy, a friend of a friend or coworker of a friend, a chance at a date. The conversation was going well enough, but I wondered if her anxiety would get the better of her. She makes it to the restaurant and even inside, but ends up bailing shortly after. She winds up at the senior center and bumps into Roy (Bill Raymond) who got kicked out. Remember the old gentleman touching himself in the first episode? Well, he's back at it during movie night and they have to ask him to leave. Poor guy is clearly starting to lose it too. Meanwhile, Brendan (Jackson White) is trying to find his niche. He doesn't really have much interest besides finding a job that pays six figures.  Yeah dude, so are we all!  He's interested in Greek life which isn't surprising considering the interactions we've seen him have in the past. His own roommate seems to be wearing thin on him. Brendan may be doing okay in the sex life aspect of college, but his actual path and dreams are a mystery.
Episode # 3 – Care Package
This episode begins and ends in the kitchen with momma's hands in the cookie jar. While preparing a care package for parents' weekend, Eve puts some cookies in the oven and settles in for some self-pleasure. Timer or orgasm? Who will beat it?  Sadly, the cookies didn't burn but the moment sure fizzled out. Her ex Ted (Josh Hamilton) shows up with a tuition check. Wild throw out there, he wanted to see if she was f*cking anyone. He could have dropped it in the mail or even drove by and put it in her mailbox.  You do not need to come inside the house and be that way, douche. You are so obviously checking up on her. Want to make sure you feel you got the better deal from that divorce? And also to drop the obvious bomb that you and Brendan decided you would be going to parents' weekend. So, anyway, Eve calls Brendan and gives him the whole f*cking scoop. Cheater dad who bailed, ouch. She gets out with her writing class though and does some major flirting with Julian (Owen Teague). I mean, you're both adults. I recommend waiting until sober but otherwise go for it. She still ends up at home alone eating cookies and masturbating in her kitchen. But who cares that he's 19 and she's 45? Consenting adults is what is important. The same goes for Curtis (Ifadansi Rashad) and Margo (Jen Richards) though the student-teacher dynamic is a complicated one. Brendan is still trying to find a place and not doing well.  The football players are talking about climate change and he isn't PC enough to not use the R-word so the Autism Support Group isn't a fan. Unfortunately for Brendan, he's going what so many college students go through and he's just gotta suffer through.
Episode # 4 – Parents' Weekend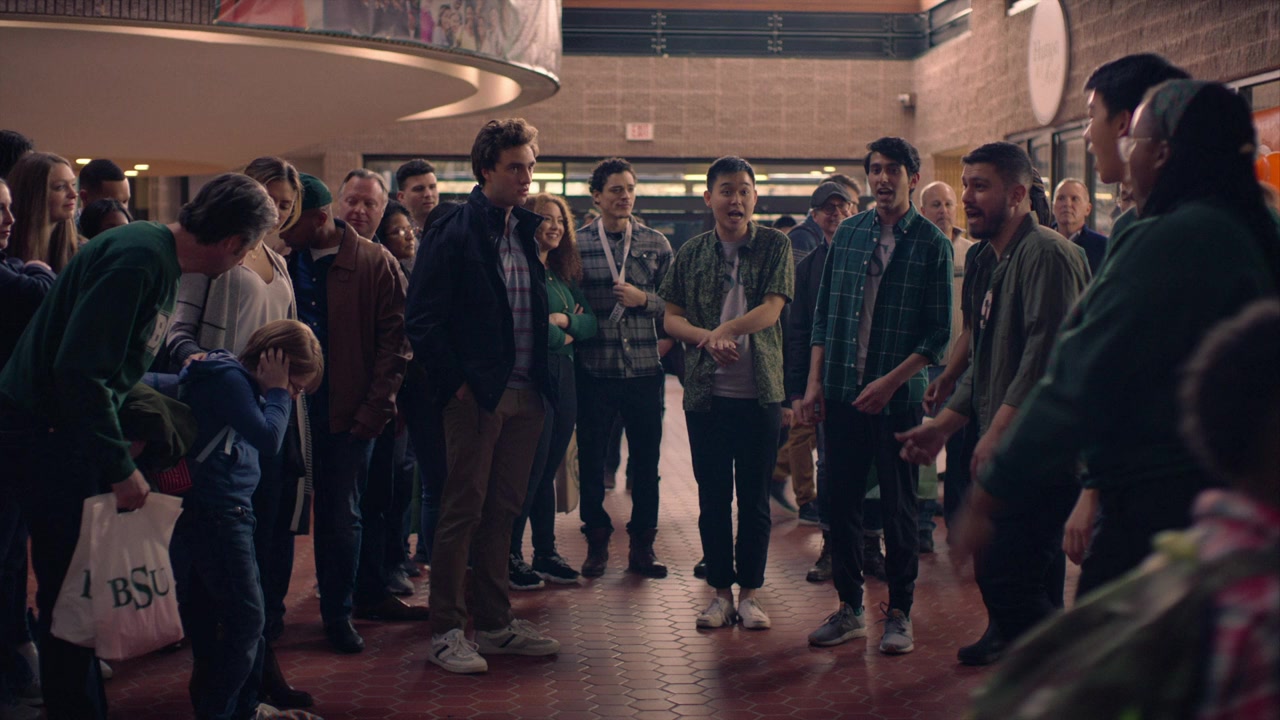 The episode opens by dropping the sadness bomb on us that sweet pervert Roy passed away. He was so adorable, it broke my heart!  Eve has an altercation with Roy's son (Domenick Lombardozzi) who doesn't appreciate her being there, you know after his father got kicked out. She ends up hanging with her coworker Amanda (Katie Kershaw) and talking about her sexual awakening. Amanda encourages this exploration, just not with her; such an awkward moment. Meanwhile, Ted shows up at parents' weekend with his wife and other kid. So not the quality father and son time Brendan was expecting. Since his half-brother is autistic, the relationship there is strained and everything needs to be accommodated to his needs. Unfortunately, little bro has a meltdown and they have to leave without a precious stuffie. And when found, Brendan sends it right into the trash along with his hopes for a weekend with his dad. I can't forget Margo and Curtis who decide to have a little date but struggle with some of the awkwardness. Alcohol smoothes a lot of that out, but it's better fun when not involved.  Here's hoping they can make something happen!
Here's hoping for all of them. Find Mrs. Fletcher Sunday nights at 10:30pm and on HBONow/Go.