"Fresh-Like," the mid-season episode for Insecure, has come and gone and here's what's left of my life. I must say that the theme of "glowing up ain't easy" is more evident than ever. Both Issa and Molly find themselves in situations personally and professionally that force them to either grow up and use their voice, or sit in the back and watch everyone else live their best life. But the journey for Issa and Molly looks completely different. For one, Issa is doing the damn thing. It feels like she is growing in a way that makes sense; there's an ease to it if you will. Molly, on the other hand,  isn't moving through these streets with the same ease. If the goal was to get better at complaining, then she's winning. But we know it's about"glowing" up, growing up and adulting. Molly girl, you in danger; it can only get better, right?
The episode starts with Issa in her new place as the property manager. I will admit that after the last episode, I was so good at not seeing Daniel again; like ever. In the opening portion of this episode, he drops Issa's things off at the door, in a cold, we can't be friends RL/Deborah Cox kind of way. (And that's fine, we ain't wanna be your friend anyway!) Much to my delight and Molly's too, Daniel appears and is gone in an instant… "bye Daniel!" And can I say that I appreciate this? The Insecure writers (Dayna Lynne North penned this one) are not afraid to move on and let go of anything that no longer serves Issa this season. Now if only we can let Dro go for good, then Molly may be able to progress forward-like too!
Issa's disinterest at work isn't subsiding. On a lunch break from work, Nathan (#lyftbae) played by Kendrick Sampson appears again. If you recall, he was in episode one throwing punches with old boy who wanted to roll up in Issa's party Lyft. None the less, the two spend the entire afternoon together getting lost in all things LA. This was my favorite part of this episode because one, I'm a new LA transplant so it's good to learn where to get good food from (World Wide Tacos), and two, Issa appears to be genuinely present and happy. As the day goes on, Issa and Nathan use truth or dare as a means to get to know one another better. Things get real interesting when Issa finds herself at the other end of her own dare, skinny dipping in her old childhood home with Nathan.  Yup, she's real brave now! Catch them charges for your man, sis! The two exchange good vibes & laughs and are ultimately caught by the White owners, resulting in a hilarious escape between the two. The two end up back at her place, eating tacos on a box (she doesn't have furniture yet, but it's coming!). They kiss but are interrupted by one of the residents on the property. I can already see it now, if Trina and her squirrels and the little boy whose momma lost her keys are any indication as to how this job is going to go for Issa, she may be in over her head! Nathan and her end the night with a kiss and a "let's do this again" assertion. Lawrence > Nathan > Daniel…
Molly…she has her thing going on with work too. The only thing is, her unresolved issues in her love life are falling into her professional life. Now we know Molly to be a bit controlling and demanding, but this Molly feels uptight and lost. You'd expect a woman of her caliber to have the emotional intelligence and professional insight to know how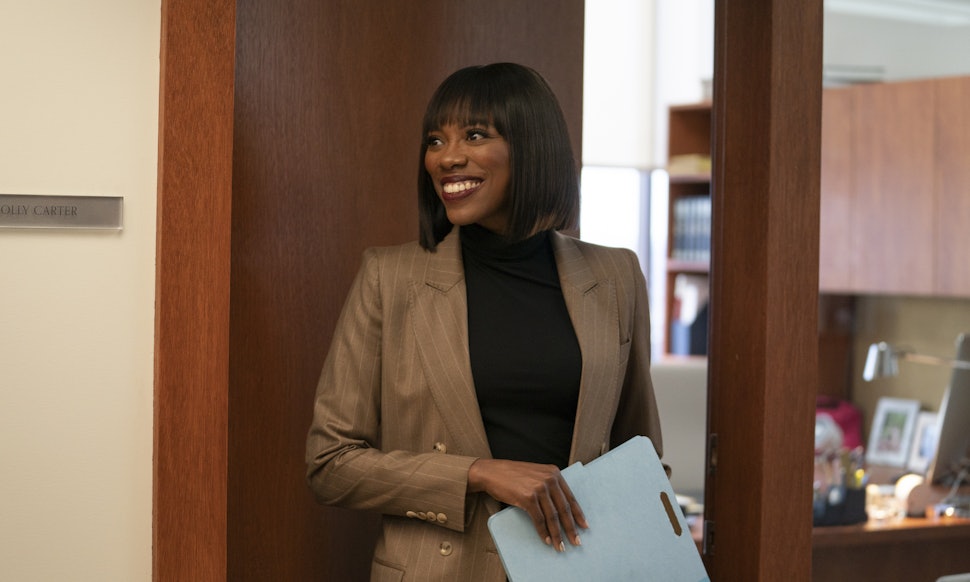 to maneuver through the professional corners of a new workspace with a little more ease and tact. Fighting to earn her spot, she's overly critical of herself after she's shut down in a meeting. In an attempt to salvage her ego, she plays nice with two other women colleagues. She signs up to help a senior leader on a case only to be somewhat distracted by what her peer is doing with another partner. In the end, it's clear she's violated some unspoken code by meeting with this man. As a result of her working with a male partner, she brushes off a meeting with the two women, and I don't know how things will turn in her favor moving forward.  To make things worse, we find out that Molly is still in therapy but hasn't told her therapist about Dro! No wonder she can't find peace or fully function, her own therapist is out the loop. Molly girl, what a mess!
Perhaps the sweetest moment was Issa resigning from We Got Y'all. It's been coming for a while and just like her situation with Daniel, that chapter needed to come to an end. Although the adult in me started counting her coins and thought about her 425 credit score; this was truly for the best. Maybe she will Lyft more and use the PT income from the property management gig as supplemental income. Either way, I'm so hyped to see what else is in store for Issa. This season has focused in on Issa as a full character. We are learning who she is without the men and her best friend. We are able to celebrate her achievements, laugh at her failures and sit anxiously for her next mirror rap!
Up next: Beychella.