Try Max Now

This past Tuesday, August 28, we were able to watch the highly anticipated HBO Sports Special Premiere: THE SHOP. The premise is simple: The Black barbershop (and beauty salon) is a safe haven where many Black people go to share their experiences, freely, openly and unapologetically. This series, while more structured, hoped to capture a space where unfiltered dialogue could exist on a cable platform, and in some way, offer a perspective into what's going on today.
Four-time NBA MVP LeBron James (LA Lakers) is the focal point here, in conjunction with comedian Jon Stewart and his business partner Maverick Carter. Jon asks the questions and uses those questions as a tool to orchestrate further dialogue. I'll start by saying 27 minutes isn't enough to capture the magic of the content we're exposed to in the first episode. LeBron and company did
such a brilliant job maneuvering from parenthood to Black culture, sports to music; I found myself wanting more. The biggest opportunity is that the segments weren't long enough. I found myself sitting on the edging NEEDING more.
So, let's discuss the topics, up first: The Culture. "My biggest frustration came from me having to pretend that Hamilton was good; people from the upper west side telling me what rap is…"  -Jerrod Carmichael (damn you NBC for not appreciating this man and his creativity, vision and insightfulness). Look, this statement at its core calls to the forefront the BIG known fact; once one White person says something is good, everyone else does too! But in this space, trends and pop culture aren't safe. Sure, we shouldn't compare the flow in Hamilton to Snoop Dogg or Biggie, but there was this sensationalism around rap being used as an art form to tell a story like that isn't what hip-hop was founded on in the first place. Snoop Dogg adds to the conversation by sharing his international touring experiences. While touring, he recognized that there is a voice and identity that the Black experience offers to people and it can't ever be denied.
Up next: Parenting. LeBron shares his regret in naming his son after him because, in some ways, it doesn't allow him a chance to develop his own brand of success like LeBron has. But it doesn't stop him from rooting him on at his AAU games!  From there, Candace Parker (LA Sparks) celebrates LeBron for being a parent who enforces equitable parenting and encouragement.
Candace and LeBron both agree that girls should be uplifted, given the same boundaries as their brother counterparts (within reason of course) and taught that they can do anything they want to, no matter what! One of the more sobering moments came when LeBron shares candidly, his conversation with his children around the n-word. This conversation happened because, if you recall, his home was vandalized in 2017 with the n-word being spray painted on his property.  A conversation so many of us have even in today's climate. Why? Well, I think his words were eloquent and clear: there's a reason they put this word up and there's a meaning behind this word. Black people have continued the debate on the N-word and its place in a conversation. But what will always be clear is that when its spray painted on your Black house in a White neighborhood, the message speaks loud and clear: we don't want you here!
The last topic I'll address is what I'll call: The Celebrity Experience. Is LeBron the greatest? I'll leave that to you sports enthusiasts to debate. But, what I will offer is that he will go down as a legendary figure off the court because of his voice and passion. Draymond Green (Golden State Warriors) says that LeBron can and should say he's the best because, in the last four years,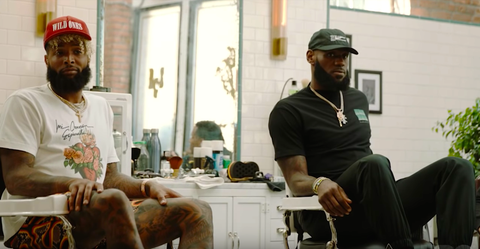 he's found himself. I have a great appreciation for that statement. What I heard him say is, LeBron decided to own who he is as a man, and with that came a freedom to speak freely and unapologetically in a way that has made a huge impact on his image. From there, LeBron shares his struggle with being a Black celebrity. He offers the example that if he doesn't want to take a picture, he's considered rude. If a White person declines in the same way, the message is "you guys should respect him." Odell Beckham Jr. (NY Giants) offered his struggles with being a celebrity and that he feels like he's an animal on display in a zoo. While we know him to be a high-spirited dancer on the field, it's clear he struggles to detach from fans who find him rude or insensitive for sometimes just wanting to be left alone.
THE SHOP is an HBO Sports Special that will air periodically throughout the year. Unfortunately, we won't have access to this content on a weekly, pre-formatted schedule, but it's so good to see LeBron and his team (UNINTERRUPTED; a digital media platform run by athletes for all lovers of sports) pushing content that shows athletes in such a vulnerable yet uplifting light. THE SHOP was executed in a great way and the topics were on point. You can walk into any Black barbershop or beauty salon and know that in some capacity, this rawness is happening (x10). THE SHOP is available on HBO NOW, HBO GO, HBO On Demand and partners' streaming platforms.
I can't wait for the next little chit-chat in the barbershop. You?