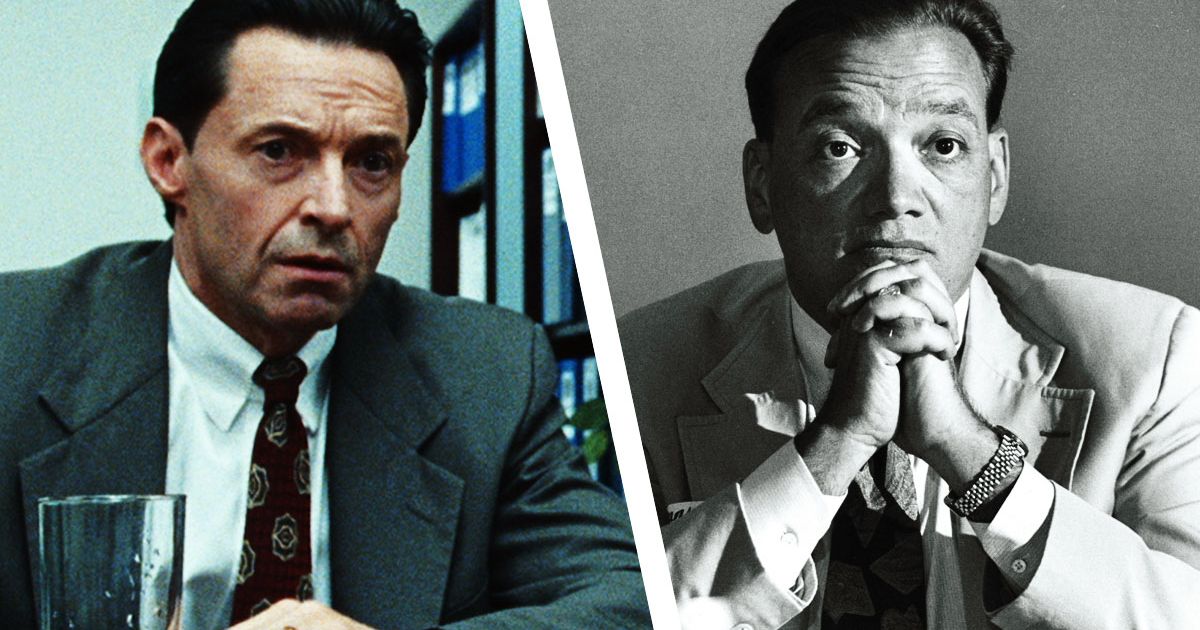 If you're here for the movie about Aunt Becky and that chick from Desperate Housewives (Loughlin & Huffman), you came to the wrong place. Who knew education was so rife for scandals and scams? Oh wait, I pay student loans… There's no better place for a scam! But just to be clear, this story is not the same one. This is a look at the HBO Films production that debuted back in April of this year on HBO. Bad Education takes place on Long Island in 2002. Frank Tassone (Hugh Jackman) is the school superintendent of Roslyn Schools and he has made everything top-notch. The reputation of the school or Tassone could not be better! With his partner Pam Gluckin (Allison Janney), these two are bringing a new skywalk project to the school and it's huge. The walk will help students get across campus and honestly, I'm not sure it's even over a busy street or anything. I think it's literally just to add another way around the school in an expensive manner. Which doesn't raise eyebrows or anything… But the school newspaper is doing a piece so questions need to be asked. I appreciate that Tassone is the one who challenges Rachel (Geraldine Viswanathan) to make it more than a puff piece. I would love to know if that conversation really happened because if it did then Tassone is directly the one to put the newspaper reporter on the path of his undoing.
In the real story, Pam's son (Jimmy Tatro) is caught using a school credit card to buy home improvement stuff for his mom's house.  The newspaper article was actually investigating why Pam left the school, hence my desire to know if Tassone really did prompt Rachel or the newspaper to dig more. After the police catch onto Pam's credit cards, Frank throws her under the bus and gets her out but quiet enough not to jeopardize their next funding meeting. This is all played brilliantly because in the film as you hardly suspect Tassone is involved until Pam leaves him a note.  Though the two were partners, the film centers on Tassone and gives Janney less of the screentime.  
After pushing Pam out and publishing a news story that she was ill, she agrees to cooperate with law enforcement and testify against Frank. Unfortunately for all of them, Rachel is the type to pull at loose threads, and with help from dad (Hari Dhillon) who has his own story, she gets to the bottom of everything. She is the one to break the story with all major networks having to play catch up. She finds an apartment in New York where Tassone's lover and partner of 33 years resides. So just hold up, wait a minute, let me put my two cents in it… Is the dead wife a ruse? Or did he actually marry a woman who died? Based on the partner's reaction, I have a feeling the dead wife is a cover for him being gay. He also had a lover he bought a house with, poor hubs.
In the end, Frank Tassone was convicted for stealing $2.2 million and sentenced to 4-12 years, serving 4 years.  As for Pam Gluckin, she pled guilty and testified against Tassone. She was convicted for stealing $4.3 million and sentenced to 3-9 years, serving 5 years. Newsday reported at her release in 2011 that she had repaid half of what she had embezzled and had declared to continue using part of her annual pension of $55,000 to fix her mistakes. It's unclear how long she continued to do so as she passed away in 2017. Tassone is still living quietly with his partner and receiving his annual pension of $173,495.04. It's uncertain how much he's paid back. Between the two of them, a total of $11 million dollars was embezzled from Roslyn schools making it the largest embezzlement in school history, besides the idea of student loans…
This is an interesting story we failed to review when it came out in April. The film was directed by Cory Finley and written by Mike Makowsky. It is based on a true story gleaned from the source material "The Bad Superintendent" by Robert Kolker. At the 72nd Primetime Emmy Awards, the film won for Outstanding Television Movie and received an Outstanding Lead Actor nomination for Hugh Jackman. You can seek it out across HBO's streaming sites at your leisure. Here is the trailer: