"Game of Thrones" S8 Premiere Date Revealed!
|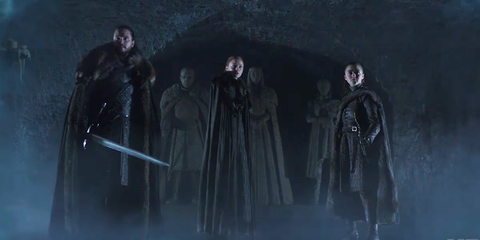 Start planning your premiere parties– just 91 days to go! At long last, HBO has announced an official premiere date for Game of Thrones Season Eight.
After a year-long hiatus, GOT is set to return for its final, six-episode season on April 14th, 2019 at 9:00 p.m. (ET/PT).
HBO announced Game of Thrones' premiere date moments before the debut of True Detective Season Three with a new teaser trailer featuring Sansa (Sophie Turner) and Arya (Maisie Williams) Stark, accompanied by Jon Snow (Kit Harington) as they explore the crypts of Winterfell. The siblings encounter eerie statues of themselves and echoes of their past before confronting a strange wisp of otherworldly, frozen wind which can only mean one thing…the dead are coming.
According to an official HBO press release, the tease was directed by David Nutter and scored by Ramin Djawadi. Both have won Emmy awards for their previous contributions to Game of Thrones, and you can see their talent on display in the clip below:
Following an unorthodox July premiere date in 2017, Thrones resumes its customary April premiere date for its final season. While last month did bring us a tantalizing teaser trailer, HBO has yet to drop a full-length trailer for the upcoming season. The show's most recent marketing campaign has not been particularly forthcoming. That being said, there's a lot to look forward to this April, according to HBO's Chief Executive Officer, Richard Plepler. Variety magazine reports that Plepler gushed:
"It's a spectacle. [Show-runners David Benioff and D.B. Weiss] have done six movies. The reaction I had while watching them was, 'I'm watching a movie'…Everybody's in for an extraordinary treat of storytelling and of magical, magical production."
Plepler isn't being hyperbolic, either– Game of Thrones Season Eight's episodes are each purported to run the length of a feature film.
Last November, Entertainment Weekly published an exclusive first look at Season Eight. In that article, Bryan Cogman, one of the show's producers, shared similar sentiments to those of Plepler:
"It's an incredibly emotional, haunting, bittersweet final season, and I think it honors very much what George [R.R. Martin] set out to do — which is flipping this kind of story on its head."
Here's hoping this final season lives up to its hype, and does justice to all the hard work that has gone into bringing it to life. Game of Thrones has enjoyed enormous success since its premiere in 2011, and I'm hopeful that its ending will be as strong as its beginning.
What do you want to see in Game of Thrones Season Eight? Comment below.