Euphoria Ep. 5: "'03 Bonnie and Clyde"
|
The 5th episode starts focused on Maddy (Alexa Demie) and how she has developed into who she is now. We see that Maddy has always had a lot of confidence in who she is and who she wants to be. What she figures out very quickly, besides being good at pageants, is that she doesn't want to be her mom. Working as an esthetician doing nails, Maddy knows she wants to be the woman getting her nails done. Not doing the work. So she thinks she runs Nate (Jacob Elordi). And in a way she does. She knows how to get fancy, nice things out of him. But when his violence comes up, she can't fight that. Because at its core, Nate's relationship with Maddy is about controlling her. Teen dating violence is very serious and not enough people understand what teens are dealing with when it comes to dating. Consent is not always discussed and since porn is so easily available and prevalent, perceptions of what normal sex is are skewed. Talk about what's okay and what's not. Kids need to know what a healthy relationship looks like. Maddy and Nate's relationship is not.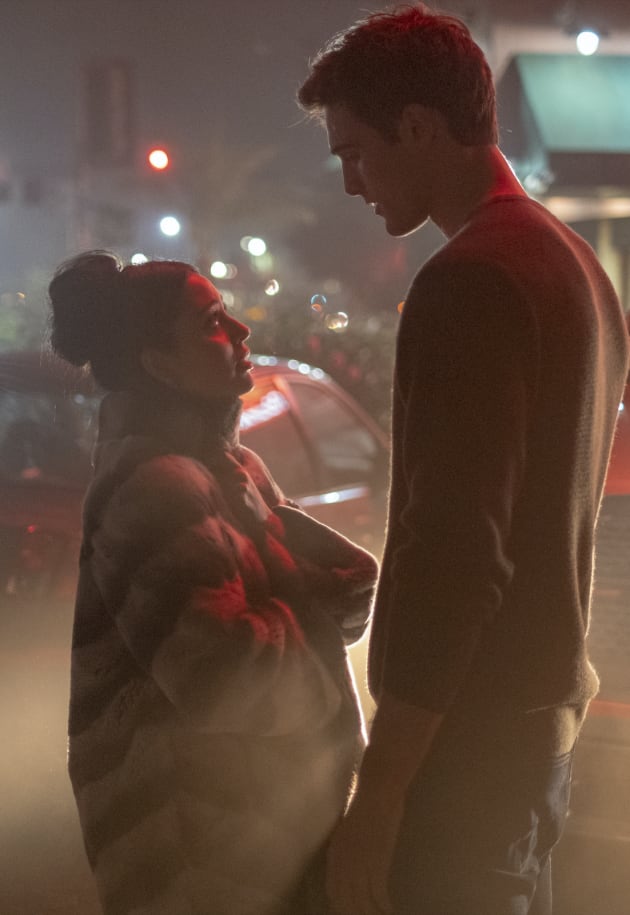 Now, Maddy has no intention of telling on Nate. Bad call. But in a series of unfortunate choices, she ends up passed out in class and adults begin questioning her strange behavior. Her parents want to press charges, even if both kids are lying and trying to cover up what happened. Nate's dad Cal (Eric Dane) asks him and of course, Nate lies. I have to say I understand police needing to collect evidence but I'm not sure I agree with an assault victim being handcuffed to remove evidence. I'm pretty sure you could have just had two cops hold her arms and done the same thing. As a survivor, seeing that scene immediately sent my advocate senses tingling because that was so not okay. Fallout is swift and while Maddy is trying to text him, I'm sure his parents (and probably a lawyer) are telling him not to respond. But he tells McKay (Algee Smith) to tell Cassie (Sydney Sweeney) to tell Maddy to download a certain app so they can meet up. Abusers are sneaky and I really expected him to kill her when she showed up. Or for his dad to be waiting for her, or something. That whole family is clearly repressing everything and they are f*cking scary. Nate's dad even meets up with a hookup, just so he can talk because he's so wound up.
Meanwhile, Jules (Hunter Schafer) is struggling with the responsibility of Rue's (Zendaya) sobriety. Now, here's the thing. Jules is in no way responsible for Rue staying sober. That is 100% no one else's responsibility but Rue, however, it's easy when you've found someone to replace alcohol/drugs/something to think it will last forever. Rue has stayed sober because of Jules and she needs to figure out how to do it for herself or she'll never make it. You can't pin your happiness on someone else. REPEAT. YOU CANNOT PIN YOUR HAPPINESS ON SOMEONE ELSE. Especially not when you're trying to be sober. You have to fight for you and you alone. I mean, they got freaking tattoos together. Of course, Jules is feeling stressed over this. But she should in no way have to live with the idea that if she tries to get out that Rue's choices about drugs are her fault. Incredible pressure for any person, let alone a teen. Rue makes amends to her narc-anon group and Lexi (Maude Apatow) too. She's really happy but Ali (Colman Domingo) reminds her that it likely won't last and she needs to know how she's going to move forward when it does. And Rue needs to figure that out. Kat (Barbie Ferrera) is still in the background working her sexuality thing. But what I think she's going to find out is that it's a lonely road and that maybe giving the science guy another chance is better. Especially since he actually does dig her and she didn't get the whole story of that blonde chick hitting him up.

The show has already been renewed for a second season! I'm excited to see how this season will conclude. There are LOTS of theories out there and I can't wait to see what happens next!