Emilia Clarke Opens Up About "Game of Thrones" Ending
|
I'm glad to learn that I'm not the only person who still has strong opinions about Game of Thrones' final season. The show's actors and actresses have been more or less reticent to share their personal responses to GOT's divisive end. But more are beginning to open up. For example, in a recent interview with HuffPost, Emilia Clarke, who played Daenerys Targaryen  (The Unburnt…Breaker of Chains…you know the drill) expanded on her feelings regarding the death of her character.
Fans of GOT enjoyed watching Daenerys' triumphant attempts to reclaim her familial throne and "break the wheel" for the majority of the series. But in the final season of the show, things took a turn for the worse. Daenerys and her dragon devastated a city of innocents; her lover-turned-nephew, Jon Snow, ended her fire-and-blood-fueled conquest with a dagger to the heart. Daenerys' descent into madness and her subsequent assassination were sudden and shocking. Reflecting on Daenerys' fall from grace, Clarke had this to say:
Yeah, I felt for her. I really felt for her. And yeah, was I annoyed that Jon Snow didn't have to deal with something? He got away with murder — literally.
Clarke is not the first GOT alum to express frustration at the show's ending, which depicted an apathetic Bran Stark on the throne and Jon Snow gallivanting with his pals beyond the Wall. Jacob Anderson, who played Daenerys' loyal commander Grey Worm, shared similar sentiments to that of Clarke's last September. In an interview with Metro, Anderson did not hold back:
As a punishment, Jon was sent back to the Watch, where he would take no wife, hold no lands, etc etc – much to Grey Worm's (Anderson) frustration. While Grey Worm is a peaceful guy, the actor who plays him feels Jon literally got away with murder…Jacob joked: "I'd take his head off!"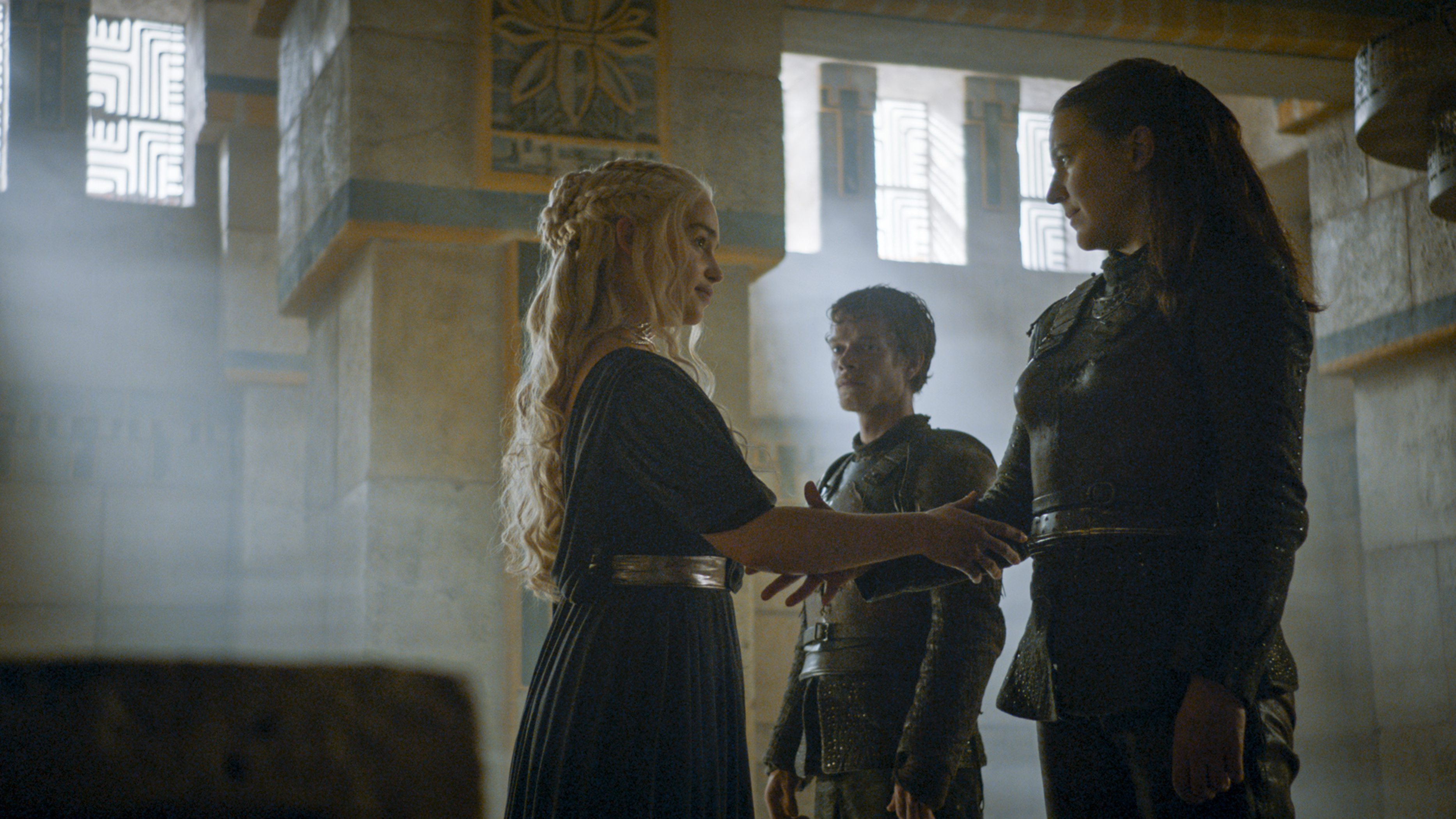 Jon Snow and Daenerys Targaryen were the two most popular characters in Game of Thrones for much of the show's run. Many looked forward to seeing them learn from each other and perhaps even rule side by side. When, instead, the pair were pitted against each other, few were pleased.  GOT attempted to justify the murder of the show's beloved Khaleesi, citing her "madness." But audiences pushed back with sympathy for her plight  and compelling arguments against her quick dismissal as a "Mad Queen."
For some, the finale of Game of Thrones was heartbreaking. For others, like GOT's Carice Van Houten, who played the mysterious Red Priestess, Melisandre, there is indeed a middle ground when you play the game of thrones. Van Houten told Metro 
The silliness of it was very smart. I thought, "This is what life is. Some dumbo can become president. 'That's the world we live in. We just sort of go, "Uh, that guy," It was smart that it was just sort of silly. I really liked it, to be honest.
To me, this feels like a bit of a backhanded compliment, but indeed, life can be "silly." It's been almost a year since the premiere of Game of Thrones' final season, the world is being devastated by a pandemic, and Emilia Clarke, myself, and others around the world still want to complain about the fictitious follies of Jon Snow. So be it.
Are you in the mood to rehash Game of Thrones' final season? Air out your grievances in the comments section below.