'Boardwalk Empire' S3 / E4 – 'Blue Bell Boy'
|
"It's an ambush!"
At last Episode 4 has launched us into the spine of Season 3 showcasing both the internal and external struggles of our protagonist, Nucky Thompson, along with an ambush of plot twisting gold. We witness dynamic changes in the bootlegging scene throughout the show's featured cities as well as penetrating insight into the mind's of key characters like Al Capone, Lucky (or should we call him Salvatore) Luciano, and, of course: Nucky Thompson. We realize now that conflict is not necessarily instituted merely through cause and effect but more so from underlying flaws in the nature of our characters. Episode 4 delivers on multiple levels and, in my opinion, is the best the season has to offer thus far.  It extends key plot elements while simultaneously bringing us a deeper and richer understanding of our characters.
Since Margaret Schroeder is the leading, female protagonist, I suppose I'm obliged to mention her but in truth her story hardly added any sense of depth or importance to the Episode. Dr. Mason and Margaret discover the hardships of running modern medicinal practices in a harshly-enforced Catholic institution.  Based on her aggressive approaches to these issues in this episode and episodes past it's obvious that Margaret is both sincere and relentless in the pursuit of her goal to aid these women.  But we already knew that. Her most insightful scene comes when she reads about the plight of Carrie Duncan and her failed continental voyage. In Episode 1, Duncan's voyage appeared to foreshadow a sense of freedom and escape and now a sudden realization that reality is not like the fairy tales. (Much like her 'Anastasia' fantasy in Season 1)
Notorious Chicago gangster, Al Capone shined this past Sunday showcasing his affectionate and loving demeanor coupled with his merciless brutality – a true fiery Italian. In many cases, these sorts of scenes fall flat but diving into the complicated family life of Al Capone captured my attention almost immediately. Perhaps it's because of Capone's infamous name that we want to know how such an influential figure in American history grows to power. We've seen Capone represented in a number of classic, American films but rarely do we get a taste of his life before his ascension to power.  After he discovers that his deaf son, Sonny is being cruelly beaten by classmates Capone gets a bitter taste of bullying and how it affects those he cares about. Later his overweight and rather smelly partner, Jake receives a relentless beating from a North-side rival. Al deals with this delicate situation the only way he knows how: he beats the man to death– defending those who can't defend themselves. Capone's actions not only give us an insight into his personal life and character, they open the gates for the incoming war with Dean O'Banion.
Lucky Luciano in New York also makes his way into the thick of the story. We catch a glimpse of his checkered past and witness his overwhelming skepticism with his current Jewish partners – a testament to the racial implications of the times. Will Lucky, who we now know as Salvatore, succumb to his ambition and his sense of duty to the Italian community? Or will he continue his run under the mechanical, strictly-business methods of his Jewish partners, Meyer Lansky and Arnold Rothstein? Wherever his path leads, its obvious now that Luciano's loyalty will play a huge factor in the outcome of this season.
Another dormant character that breaks into the plot is Eli Thompson. For the first time since his sentencing nearly two years past we see Eli interact with his brother Nucky – an anything but pleasant exchange. The incompetent management of Micky Doyle is hard to ignore, so much so that Eli finds it necessary to voice his disapproval to Doyle, Sleater and even to Nucky himself. In the end, his apprehension is ignored resulting in a climactic, ruthless massacre. Can Nucky find it in his heart to trust the judgement of his younger brother? Or will Eli's reasoning continue to go unheeded? Either way I think it's obvious that Eli's knowledge is hard to keep sidelined for much longer. War is coming.
So many characters, yet still we're granted even greater insight through Irish veteran and now right-hand-man, Owen Sleater, whose apprehension and fear of employer, Nucky Thompson is brought to light. Owen puts Nucky's patience to the test after arriving late due to a morning BJ, but hey, who can blame the guy. After tracking down the teenage thief from Episode 1, Rowen Smith and the three (Owen, Nucky, and Rowen) are placed in a particularly sticky situation, having to avoid a mob of corrupt and trigger happy proheebs. Owen feels as if he's developed a solid rapport with Nucky; he reminisces about the ole' country reliving his days as a soldier in the Irish Resistance. We get the sense that these two share a close bond, but as Nucky's merciless antics continue, we realize that neither we nor Owen truly have a solid beat on this complicated character. I begin to fear for Owen's longevity; his affair with Margaret will eventually be exposed, and from the look of things, Nucky seldom travels down the path of forgiveness.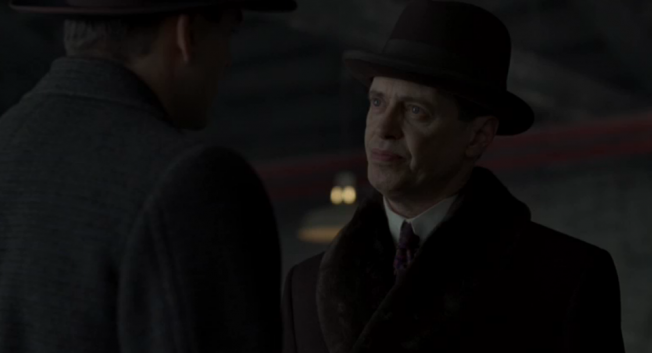 What is happening to Nucky Thompson? Can his deepening character flaws be exclusively attributed to killing his surrogate son, Jimmy Darmody?  Or his growing resentment of Margaret? Whatever it may be, its obvious now that Nucky has taken a steep dive from grace, and now, to add to his growing list of troubles, his fortune and life are once again on the line. After his time in hiding with Rowen Smith, we return to Nucky's compassionate tendencies as seen in previous seasons, seemingly developing a bond he once shared with Jimmy. Also like Jimmy, Nucky puts a bullet in his head and we realize that any notion of compassion or mercy is now null and void in the mindset of our protagonist. It's clear now that Nucky's dwindling business relations are a direct result of his withering conscience. His character flaws are not only recognized by us, but are scrutinized even more so by those closest to him.
Gyp Rosetti's ambush to end Act I has set the stage for war on the 'Boardwalk.' Conflict continues to pile on the shoulders of Nucky Thompson, exposing a barbaric disposition along with a dangerous abundance of questionable loyalties. Now more than ever, we see Luciano directly affecting the main plot of the series. Will Rothstein betray Nucky? Will Luciano betray Rothstein? Will Rosetti betray them all? So many questions, so few answers. Things are just starting to heat up. Tune in this coming Sunday and join the conversation.