Big Little Lies Premiere: "Somebody's Dead"
|
With Liane Moriarity's book being a well-accepted success, we eagerly awaited the release of HBO's adaptation of Big Little Lies.  Boasting such a rich acting quality of Reese Witherspoon, Shailene Woodley, and Nicole Kidman to name the least, it isn't hard to see this series becoming a hit.  But let's start at the beginning.
The episode be
gins like the book. Someone is dead at a school function and everyone is a suspect. Cutting between interviews of witnesses and the beginning of the school year, the audience will see the story unfold as the events lead up to the death, which will most likely occur in the finale. We begin by seeing the introduction between Madeline (Witherspoon) and Jane (Woodley) after Madeline rolls her ankle and Jane comes to her rescue. Once at school, Madeline introduces Jane to Celeste (Kidman) and the three become friends. Jane is uneasy around the women though and as the episode continues little splices of story reveal that Jane has had a rough past.
At the first day of school Madeline quickly butts heads with Renata (Laura Dern) as she is a working mom who often looks down on stay-at-home moms like Madeline. And as the interspersed interviews indicate these two ladies become the forefront of the schism. When everyone returns to pick up their kids from the first day, Renata's daughter Amabella (yes, Amabella) has choke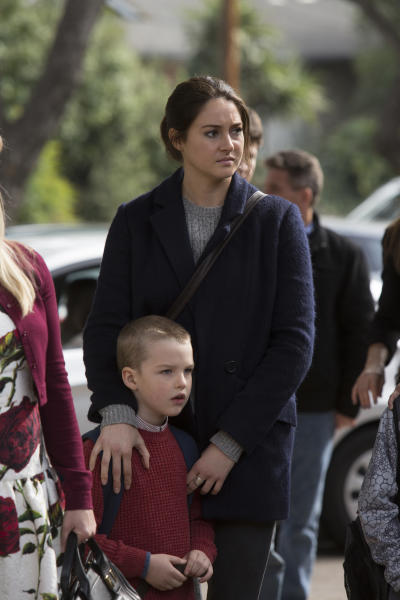 marks around her neck. As everyone gathers around the teacher points out the incident and asks Amabella who the culprit is. Now, I understand that after a first day the kids might not all know each other's names but having the little girl point out who hurt her while surrounded by people is not the best idea. Imagine the poor girl's feelings. She's already been hurt and now she is put on the spot in front of a huge crowd to name who hurt her. Well, that is exactly what happens and who does she finger but Ziggy, Jane's son. Poor Ziggy is upset obviously because he didn't do it and Jane believes him. Or does she? But Renata throws down and Madeline is not a fan, thus the line in the sand is drawn. And everyone must take a side.
Having read the book, I was curious to see how things would unfold for the characters. Madeline is having a hard time with her older daughter Abigail, who is becoming close with her ex-husband's new wife Bonnie (Zoe Kravitz). Madeline feels her relationship with her daughter is slipping away. In the book this plays out throughout the entirety and I was disappointed here to see an emotional resolution in the first episode. This is a major source of stress for Madeline throughout the story and eventually comes to head due to some dangerous choices by Abigail. There was also more character development of Renata, which threw me off. The book focuses more on Madeline, Celeste, and Jane and holds Renata as more of a villain. The perspective of Renata as a victim of her circumstances was o
ff-putting. Her husband puts it best when he comments that "women always want to be better than each other but can't take the hate when they are." This commentary pisses Renata off, but he's got a point. When you make the habit of being a snob and better than everyone else, you can't exactly be mad if they don't like you. One tiny change that was made, which is understandable, is that the story is now set in Monterey, California instead of Australia. Obviously not a big deal for the story, but seeing the gorgeous Aussie views would have been nice. I'll have to look at some pictures on Google to deal with my disappointment.
One thing the show did differently than the book which I appreciated is the display of domestic violence perpetrated by Celeste's husband Perry (Alexander Skarsgard). Throughout the story you get little hints and eventually it comes out. But the show illustrates from the very beginning that this is a hostile situation for Celeste and while everyone thinks they have the perfect marriage they don't see what is really going on inside it. From the beginning we will be able to see how domestic violence is perpetrated and how it escalates.
You know, the novel has been praised highly for how it approaches domestic violence and the complicated nature of escaping it. And I wholeheartedly agree with the praise. So many people question why a woman/man stays in a relationship where she/he is beaten, but people don't realize the various ways a victim is compromised or forced into staying. Finances, pets, children, and manipulation are just a few factors of why victims feel compelled to stay in abusive relationships.  Not to mention that the more a victim tries to escape the more the violence escalates against them. If you or anyone you know may be the victim of abuse, please look into resources from the National Coalition Against Domestic Violence.  Their resources can be viewed here with a quick escape button if needed.  More area specific resources can be searched for here.
It will be interesting to see how the story continues to unfold, but so far with such wonderful casting and amazingly beautiful cinematography, I believe this show will be quite a force to behold. Here's what we can look forward to in the coming episodes: