"Barry": Episode 7 & Season 2 Finale
|
The last two episodes of the season are now behind us and leaving us with quite a cliffhanger. Our favorite assassin turned actor has been renewed for a third season already, so we know this isn't the end of Barry yet. But let's get into these last two pulse-pounding episodes!
Episode 7: The Audition
While waiting for Sally (Sarah Goldberg) during a meeting with her agents that goes poorly, Barry (Bill Hader) gets an audition. Purely for being tall, so we can't really say it's because of talent but it's a big deal. Sally is happy for him but also kinda loses it. And I get it. I think we all do in a way. I know I've certainly had circumstances where someone who has less experience swoops in and gets a big pay off instead of me but you care about them in some kind of way. But she's trying to keep her focus on her life story performance which is going to be in front of way more people, including some people of importance. Cue the panic. Gene (Henry Winkler) helps Barry prepare as much as he can.
Meanwhile, NoHo Hank (Anthony Carrigan) admits to his buddies in the midst of incoming doom that he's not a mean guy. The whole scene was hilarious and I definitely need to check out more of Carrigan's work because he's spectacular. His guys don't really need him anymore and it's pretty devastating for him, though he's trying to make do.
Barry is ready for his audition but just prior he gets a good luck call from Gene who has a friend with him. Fuches (Stephen Root) is posing as a detective to get closer to Gene and takes him to Janice's car. The cliffhanging scenes and the intense music were insanely well done. It was unbelievably powerful.
Episode 8: Berkman > Block (season finale)
We come back in the same place with Barry racing to the scene. Will Fuches kill Gene? Will Barry kill Fuches? Well, no and no, apparently. Fuches opens the trunk and shows Janice's body to Gene. While in shock, Fuches leans to Gene and whispers to him. Fuches then bolts, leaving the soon to arrive police to find the scene. Barry comes across Fuches in his escape but instead chooses to run to Gene in case he's injured. Barry closes the trunk and soon the two are in police custody. Thanks to Fuches the police believe Gene killed Janice so in order to save him Barry would have to come clean. Dick move, bro. Best know Barry's gonna be comin' for you.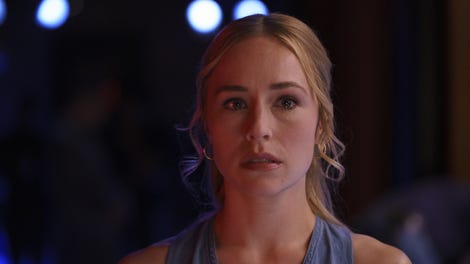 Sally is focused on the showcase and impressing the audience. When Barry arrives, he's clearly out of it and she's not thrilled. Instead of telling the real story, Sally panics and tells Barry off, and Barry leaves. The audience loves it and loves her. And now Sally doesn't feel like an artist. It was a pretty heartbreaking scene. Remember how Barry left? Well, he's on his way to see the Chechens and Hank who have a new friend named Fuches. Pesky little bugger, huh? After coming to deal with Hank, Fuches mends the relationship with the Bolivians. Barry comes for Fuches and the bullets fly.
Barry closed the trunk earlier and it just so happened when he did that he slipped the Chechen pin from Hank inside. So the police now believe the Chechens killed her and Gene is free to go. He gets picked up by his son (aww) and goes home to rest, clearly still in shock over seeing Janice's body. A truly cruel thing for Fuches to do. What was it that Fuches whispered? Dum dum dum. He remembers.
I really cannot wait to see what they come up with for next season. Obviously, some important relationships are going to be very different and that dynamic could have an effect on other characters. Whatever they do, I'm down! I think Berg and Hader make a damn good creative team!